Bellevue College began offering classes for its first four-year Bachelor of Science (BS) degree on Jan. 3. It's the first community college in the state to offer a BS degree in a subject that is also available at a four-year university. To date, Bellevue College's bachelor programs have been two-year, applied baccalaureate degrees, designed for the professional/technical student with an associate degree.
"It's a great achievement for the college, really ground-breaking," said Chris Bell, Bellevue College's director of baccalaureate development. "Most four-year degrees offered by community colleges are Bachelor of Applied Science degrees.Traditional BS degrees are generally the domain of the universities. But since this is a high-demand field, it made sense to increase capacity so that more students could earn a BS in Computer Science. It's a win for students who can get on a track for a high-wage career, and for the region where more computer-science grads could have a huge economic impact."
In July 2015, the Washington State Legislature approved a budget proviso providing Bellevue College a state appropriation to develop a Bachelor of Science in Computer Science degree. BC developed the program, approved by the state, with final authorization coming in August from the accrediting agency, the Northwest Commission on Colleges and Universities (NWCCU).
Computer science is the study of computers and the theory, design and application of computing systems. The BS in Computer Science provides challenging and exciting opportunities affecting many occupation fields from medicine, clean energy, automotive technology, e-commerce, entertainment, and mobile apps to name a few. Students will gain a strong foundation along with practical application experience in a senior capstone design project.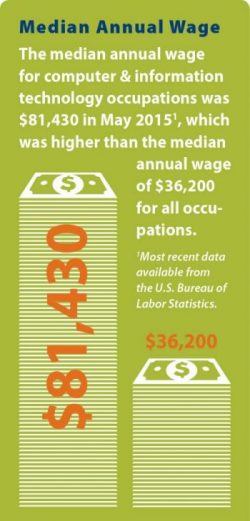 The college offers elective classes in areas such as computer networks, numerical methods, software engineering, cloud computing, and computer security. Graduates with a Bachelor of Science in Computer Science may work in such occupations as:
Software developers
Research analysts
Computational scientists
Database administrators
Project managers
Systems administrators/analysts
User experience designers
Computer science degrees can lead to high-income positions in a fast-growing field. According to the U.S. Bureau of Labor Statistics, the median annual wage for computer and mathematical occupations was $86,430 in May 2015, with salaries for software developers averaging $100,000 and above, and employment is projected to grow 12 percent from 2014 to 2024, faster than the average for all occupations.
The program is open to freshman, sophomore, juniors, and seniors. Students interested in the Bachelor of Science in Computer Science program can learn more at www.bellevuecollege.edu/cs/.
– by Sharon Berg
Last Updated January 26, 2017