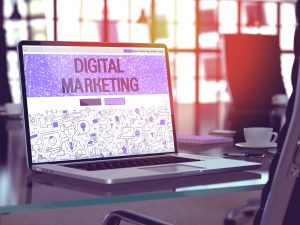 Bellevue College has been approved to offer a Bachelor of Applied Science (BAS) in Digital Marketing degree by the Northwest Commission on Colleges and Universities (NWCCU). It will be the 12th baccalaureate degree offered at the college, following the recent approval to offer a Bachelor of Science in Computer Science degree that was announced last fall.
The BAS in Digital Marketing is a response to the high demand by local employers for marketing professionals with hands-on digital experience. Digital marketing positions are expected to increase 20 percent over the next decade, with many requiring a four-year degree. Graduates of the new program will enter the workforce with a strong foundation in the fundamentals of marketing as well as digital skills in search engine marketing, search engine optimization, display advertising, mobile marketing, online video, social media, and website design. They'll be prepared to take on roles in marketing strategy, media buying, research, campaign reporting, analytics and optimization.
"Our Institute for Business and Technology advisory council made it clear to us how difficult it is to find talent with digital marketing skills," said Chris Bell, director of applied baccalaureate development. "It's not a role you hand off to an intern anymore, or a role that simply makes updates to the company's webpage. Digital marketing has become the centerpiece of most marketing campaigns and is a high demand field that requires training at the bachelor degree level."
Bellevue College student Walter Garrido chose to go back to school for just these reasons. He saw big changes in the business environment, and decided he needed to update his own skill set to be competitive. "The opportunity to complete a bachelor's degree in digital marketing here, with all the great people I've come to know is ideal. I can't wait to be one of the first to complete it," said Garrido.
Classes are expected to begin Spring quarter. For more information about the digital marketing program, contact Kyle Barber at kyle.barber@bellevuecollege.edu or 425.564.2136.
– by Nicole Beattie
Last Updated January 26, 2017