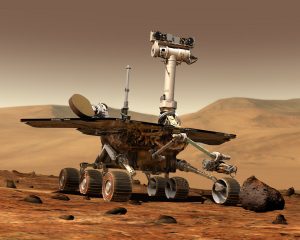 Christina Sciabarra, associate director of the Center for Career Connections, recently emceed "Life on Mars: An Interactive STEM Panel". It was the first of several events to be held centered around The Martian, Bellevue College's BC Reads! common book for the 2016-17 academic year. Sponsored by the Library Media Center, Center for Career Connections, and RISE Learning Institute, it drew a full house in the library collaboratory.
Andy Weir's debut science fiction novel, The Martian, is about a U.S. astronaut stranded on Mars who survives on the inhospitable planet by combining his scientific background with a stubborn refusal to give up. The novel was a New York Times best seller and was made into an Oscar-nominated movie starring Matt Damon.
An address to the audience via video from Rob Manning, chief engineer of the Mars Pathfinder flight system at NASA, opened the event. Panelists included Kevin Weston, engineer at Blue Origin, Dr. Gordon Holtgrieve, assistant professor in Aquatic & Fishery Services at the University of Washington, and three Bellevue College professors: Dan Knight, astronomy; Dr. Trevor Gamble, physics; and Dr. Roshni Tewari, biology.
"We discovered that Mars is habitable," said Manning, "but we still don't know if there is life on Mars." Manning, a Washington native, has helped develop variations of rovers, which are space exploration vehicles designed to move across the surface of a planet. Some may transport a spaceflight crew but others are robots, such as the Mars Exploration Rovers that act as robot geologists.
"It is impossible for any one person to know all there is to know about complex spacecraft," said Manning, "It takes many good people working as a team." He pointed out that people with a variety of expertise are needed to make a project successful.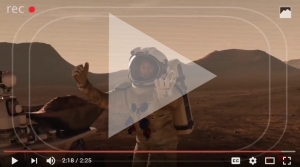 Getting a good education and good grades are imperative to pursue a career in the space program. Manning, like the speakers that followed, shared his educational and career path with BC's students, who comprised most of the audience. He first attended Whitman College, a liberal arts college, and graduated with a bachelor's in mathematics before entering Caltech. After graduating with an engineering degree, he was hired by NASA's Jet Propulsion Laboratory.
Kevin Weston, engineer at Blue Origin, discussed and showed a video of the New Shepard booster which has flown and landed again, demonstrating reuse, something Weston describes as a real game changer. The company's website describes Blue Origin as a "privately-funded aerospace manufacturer and spaceflight services company set up by Amazon.com founder Jeff Bezos. The company is developing technologies to enable private human access to space with the goal to dramatically lower costs and increase reliability. It is focused on rocket-powered vertical takeoff and vertical landing vehicles for access to suborbital and orbital space." The company's name refers to the blue planet, Earth, as the point of origin.
Weston received a bachelor's degree in biology and bachelor's and master's degrees in electrical engineering and computer science, all from MIT. He began in software development at Microsoft, then was a development manager at Amazon.com before joining Blue Origin three years ago.
Watch the full panel discussion at: https://youtu.be/clpLeMVTwhk
– by Sharon Berg
Last Updated January 26, 2017