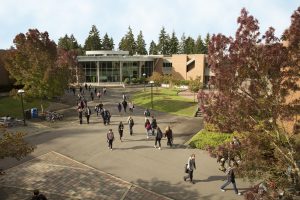 Over 175 students, job seekers, family members, educators, and other professionals attended a unique conference at Bellevue College, "Autistics Present: A Symposium on Autistic Culture, Identity, and Transition". Every presenter was autistic, allowing them to bring their in-depth experiential and professional knowledge to a broad range of topics, including the creation of supportive and inclusive spaces for autistic women, autistic identity and culture, Microsoft's autism hiring program, and more.
The symposium was developed through a partnership between Bellevue College's Autism Spectrum Navigators program and the Autism Women's Network. There were two workshop tracks, one focused on identity and culture, and the other focused on transitioning from high school through college and into careers.
Sara Gardner, program director for Autism Spectrum Navigators, was diagnosed with autism at age 41. "We wanted to host a conference that was uplifting and positive in its representation of autistic people, and informative for the people who support them. Many times the focus is on helping autistic people 'fit in'. We don't need to fit in, we need to be allowed in. Autistic people are a valuable addition to any workplace."
Employers are increasingly expanding their efforts in diversity recruitment to include people with different abilities. In the article "What if a Company Maximized Jobs Over Profits?" published in the Harvard Business Review (March 20, 2014), job entrepreneur Dave Friedman said he believed "people on the autism spectrum represent an exceptional yet hidden workforce." He found that people on the autism spectrum had a competitive advantage for "labor-intensive activities such as website maintenance, data entry, and software testing," roles that companies were often hard-pressed to fill. His company AutonomyWorks was designed to fill that gap, connecting employers and autistic people to their mutual benefit.
"Diversity is a big tent, and it includes people with different abilities" said Sayumi Irey, chief diversity officer at Bellevue College. "Having diverse teams is critical for growth, creativity, and performance in our society.  Exploring and understanding who we are is one of the most important pedagogical tools to help us become more engaged and thoughtful members of a community."
Faisal Jawal, assistant dean of student programs at Bellevue College, agreed. "Every person on the autism spectrum has unique abilities, challenges and symptoms. Learning about the different autism spectrum disorders helped me better understand not only folks in our community that are on the spectrum, but also myself."
For information about the Autism Spectrum Navigators (ASN) program, visit: www.bellevuecollege.edu/autismspectrumnavigators/
– by Nicole Beattie
Last Updated January 26, 2017