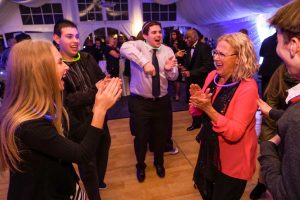 Freezing temperatures, snow and a Seahawks playoff game couldn't keep more than 200 people from attending Bellevue College's 50th Anniversary Gala on Jan. 7 at The Golf Club at Newcastle. The formal affair celebrated the institution's golden anniversary while also raising funds to help students pursue their dreams.
Guests received star treatment as the BC mascot, Brutus, greeted them along the red carpet and posed for photos before they spent their evening celebrating 50 years of excellence in higher education. During the evening, guests mingled, enjoyed cocktails, bid on auction packages, danced the night away and even received updates on the Seahawks game.
"It was wonderful to see such a large and diverse group of community and business leaders brave the elements to support Bellevue College and its current and future students," said BC Foundation executive director Rebecca Chawgo. "It was a great way to culminate our 50th anniversary and to provide funding supporting student success and academic innovation at a lovely event where people genuinely had a good time—the dance floor was still crowded well after midnight."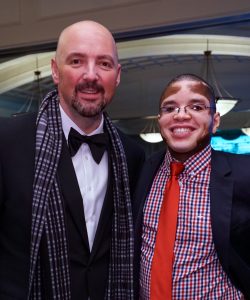 Attendees had the chance to see the impact of their support through the life story of featured speaker Alain Patience Mizero, a proud BC alum and former BC Foundation scholar. Mizero was born and raised in Rwanda, then studied in Paris before receiving a U.S. green card and moving to Seattle. Upon his arrival in Washington state, he found himself homeless for a year before meeting a generous individual who lived close to BC and helped him achieve his education goals.
"Bellevue College and the Foundation played an important role in my success. I am immensely appreciative of the educational support I have received at BC," Mizero said. "And my story is one of your generosity. Thank you all very much. Mine is but one of thousands of stories on Bellevue College's campus." Upon graduation from BC with an associate degree in computer science, he went on to obtain a bachelor's degree from the University of Washington and is now working as an IT specialist with the Defense Contract Management Agency.
A new endowment from Berthe and Stanley Habib was also announced that night. The Habibs donated $250,000 to endow a scholarship for students in Bellevue College's new Bachelor of Science in computer science program. They had previously created a scholarship endowment to encourage women to study science, technology, engineering, and math.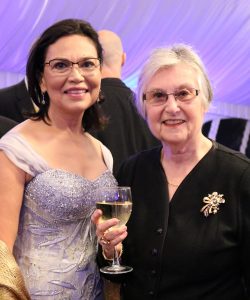 Berthe Habib was one of the first students to enroll at then-Bellevue Community College when it opened in 1966. She went on to graduate from the University of Washington, then returned to Bellevue College and was hired to lead the mathematics lab. She created the first online math class at the college and was a member of the faculty for more than 25 years.
The evening offered a surprise to BC's retiring athletics director, Bill O'Connor, with the announcement that the center court in the college's Courter Family Athletic Pavilion will be named after him, an honor made possible by a generous new gift from the Courter family.
The gala capped off a yearlong series of 50th anniversary celebratory events that recognized the importance of community contributions to the success of the institution and its students. Bellevue College has grown from its start in 1966 with fewer than 500 students into the third largest institution of higher education in the state of Washington, offering 12 bachelor's degrees in addition to associate and certificate degree programs.
Last Updated June 2, 2017