It's not often that you can put a dollar amount on the value students add to the community, but in the case of Bellevue College's Multicultural Business Consulting class, you can.
Bellevue College students have provided over 12,000 consulting hours with a market value of over $500,000 to businesses and nonprofit organizations over the lifetime of the innovative course, according to BC professor Leslie Lum, who teaches the class.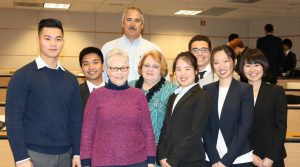 Multicultural Business Consulting, which began in 2003, provides a comprehensive, multidisciplinary and multicultural approach to business strategy and consulting. It emphasizes a diverse customer focus to strategic thinking and problem-solving, and presents techniques that reflect global best practices for fledgling businesses.
The program comes under the auspices of the University of Washington Foster School Consulting and Business Development Center, where it is offered at the senior level, Lum said.
The Bellevue Rotary Club also plays an active role. Rotary member Adam Pinsky locates businesses willing to participate, and then the class is divided into teams with two Rotary members who serve as mentors.
Clients sign a contract which specifies the work areas that students will concentrate on, and after 10 weeks of work and preparation, each team provides a written report and presents it to the clients and an audience.
Students have provided consulting for a wide variety of industries through the years, among them a microbrewer equipment seller, a personal organizing business, a newspaper, an accounting firm, an art gallery and several restaurants. Students might launch customer surveys or conduct research from secondary sources.
One alum decided to give back by becoming a client herself. Yen Lam-Steward was already part of her family's business, Lam's Seafood, in 2004 when she took the class. In 2008 she became CEO, then in 2010, Lam's Seafood became a client of the consulting class. She had increased revenues from $8 million in 2008 to $17 million in 2015 when she sold the business.
Many past students credit the class with helping them get a job, beefing up their resume, helping them start a business, or being able to use the skills gained in the class in their careers.
– by Sharon Berg
Last Updated June 7, 2017