BC DECA Team Wins National Title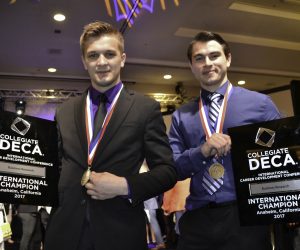 A total of 33 BC students who are part of the college's DECA team went on to compete at nationals in Anaheim, Calif. It's the third consecutive year that the Bellevue DECA team has been national champions, led by Kyle Barber, chair for BC's marketing management program.
"It feels great to see the students perform at such a high level and maturing into future business leaders," said Barber, who also won the "Advisor of the Year" award. "They represent how Bellevue College is growing and evolving to become a school of distinction, where students learn critical thinking and problem-solving skills that are in high demand from local employers."
Bellevue DECA placed as the national champion in the entrepreneurship sweepstakes awards, which recognizes the cumulative effort of all students in select events. The team was also second in the nation for the business sweepstakes awards.
In terms of individual awards, Dan Palanchuk and Dorel Roata were national champions in marketing research; Megan Ewing was second in the nation in sales management; and Steve Raymond was third in the nation in starting a business. Many individual members placed in the top 10 for other academic areas like growing a business, travel and tourism, and emerging technology/digital marketing. The team competed against 3,000 students and 400 chapters from across the nation, plus participating international chapters from Canada and China.
DECA's goal is to prepare emerging leaders and entrepreneurs in marketing, finance, hospitality and management in high schools and colleges around the globe.
Kennedy Center Meritorious Achievement Award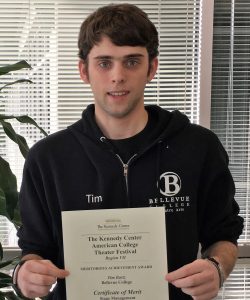 In addition to being a third-year student in the Occupational & Life Skills (OLS®) program, Tim Bartz is also simultaneously earning his theater-concentrated AA at Bellevue College. When he's not busy pursuing two college degrees at once, he's doing what he loves – working as an assistant stage manager for theatrical productions at Bellevue College. And apparently, he's pretty good at it. Bartz was recently recognized by the Kennedy Center American College Theater Festival for his work on the BC original play, Coupler, for which he received an award in Meritorious Achievement for Stage Management.
Bartz discovered his passion for theater as a junior at Newport High School, where he started taking drama classes, and hasn't looked back since.
When asked about his success and what he thinks set him apart for this award, he mentioned his roles as both an actor and a stage manager, noting, "I've seen it from all sides. I think experience played a big part in it."
Phi Theta Kappa Members Honored for High Academic Achievement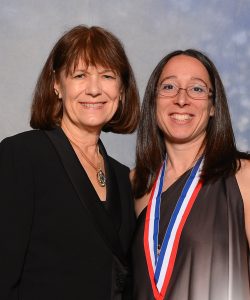 Bellevue College students Michela Santi and Michael Cha were recognized for their scholastic achievement and community service at the 2017 All-Washington Academic Team Recognition Ceremony on March 23 at South Puget Sound Community College in Olympia.
Santi holds a 4.0 GPA and has applied for acceptance into BC's nursing program. A native of Italy, she said, "After completing high school in 1998, I graduated with a diploma in air traffic control and aeronautical technical engineering. In 2011, I married an American citizen I met in Italy.  After attempting to find work in the aviation industry here with no success, in 2015 I decided to pursue a new goal: going back to school to define a new career path."
Cha holds a 3.94 GPA and will graduate in June with a business transfer degree. He's already been accepted at Berklee College of Music in Boston. Cha has been active in several leadership roles on campus, including serving as Campus Activities Board student event coordinator, and the Asian Pacific-Islander Student Association, Korean Student Union, and Phi Theta Kappa. His community service includes volunteering at Seattle Humane Society and Hopelink.
To qualify for the All-Washington Academic Team, students must be part of Phi Theta Kappa, the international honor society for two-year colleges.
Last Updated June 5, 2017