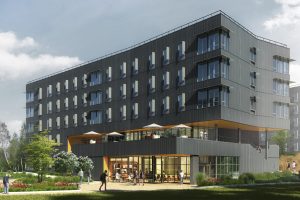 Much like the rooftop spectators across from the friendly confines of Chicago's fabled Wrigley Field, occupants of Bellevue College's first on-campus student housing facility will have a ballpark view as one of the perks.
Slated for occupancy in fall of 2018, the project — designed to be highly sustainable — accommodates 350 beds in apartment-style units, which include studios, two-bedroom studios and four-bedroom apartments.
Among the amenities of the roughly 132,000-square-foot building is a multipurpose meeting and conference room that opens onto a deck with a clear view of Courter Field and beyond to Seattle's identifiable landmarks.
"On the second level is a large conference room and a patio which can be used for college events and student events," said Vidya Ramachandran, director of capital projects at Bellevue College. "These two are common to the campus — anyone can reserve them."
"The view from that location is spectacular," she said. "From the patio you get a view, on a clear day, all the way up to the Seattle skyline."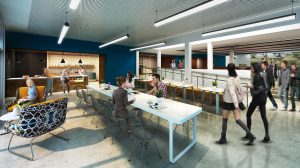 The project also includes a lounge with a cafe on the main level, which will be open to all students, as well as private study areas and floor lounges."They'll have a kitchen, a place to sit, talk, and eat; TV; and a gaming table, things like that," Ramachandran said.
With sustainability a primary component of the design, the goal is to achieve LEED Gold Certification status.
LEED, or Leadership in Energy and Environmental Design, is a rating system developed by the United States Green Building Council to evaluate the environmental performance of a building and encourage market transformation toward sustainable design.
"We are targeting LEED Gold Certification," Ramachandran said. "We are using highly efficient stormwater, runoff controls. We have several rain gardens, or bio-retention planters, to treat and filter rainwater."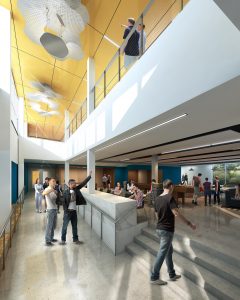 "The whole design has both active and passive sustainability features," she said. "The orientation of it—the south-, north-, east-facing orientation—makes a difference."
Even the types of plants in the landscaping and the lawn mix have been chosen with sustainability in mind, and the building will also feature energy-saving LED lighting throughout.
Sustainable features might seem cost prohibitive at first
"When you try to make the building more and more energy efficient, or try to reach a standard, it is expensive," Ramachandran said. "You are putting in extra initial costs, but that is not how you evaluate a cost." Equally important are the entire life cycle cost and the efficiencies that sustainable features offer long term.
Construction for the project on the northeast corner of the campus is underway
– by Jim Hoehn
Last Updated June 2, 2017