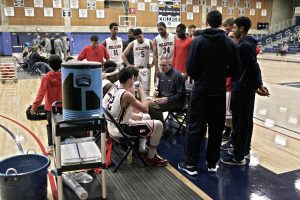 Longtime Bellevue College men's basketball coach Jeremy Eggers has been named athletic director, replacing Bill O'Connor.
Eggers recently completed his 14th season as head coach by leading the Bulldogs to their 12th playoff berth during his tenure. He also was assistant athletic director the past three years.
"I'm sad that I won't be coaching anymore," Eggers said prior to the opening round of the NWAC Championships Tournament in early March. "This is my last hurrah here this weekend, and potentially next weekend. It's been pretty emotional for me telling my guys. I just told them on Sunday…that 24 years of coaching is how I built my identity and kind of who I am, but this is a challenge that I'm excited for."
Under Eggers, a five-time North Region Coach of the Year, the Bulldogs won or shared seven NWAC North Region crowns and produced nine seasons of 20 victories or more.
Eggers also coached the BC women's team in 2012-13 and 2013-14, making the playoffs and earning region coach
of the year honors each season.
In 2014, he led both the men's and women's teams to region titles.
---
Related Coverage
O'Connor's Legacy Will Live on at Center Court
Last Updated June 2, 2017