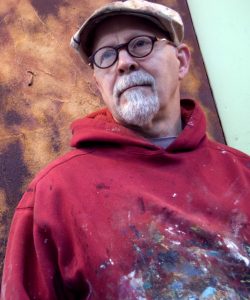 You can find BC faculty member Dale Lindman's work hanging in the offices of major corporations, private collections or local galleries, but from Feb. 22 to March 27, three decades of his art was in one place – the Gallery Space at Bellevue College.
It was quite an accomplishment for a man who had once been reluctant to even call himself an artist.
Born and raised in Minnesota and the first in his family to go to college, Lindman discovered a passion for art when he entered North Hennepin College in 1969. He continued his studies at St. Cloud State University in Minnesota, where he was mentored by a second-generation abstract expressionist, David Brown. There he earned his bachelor's in comprehensive art and master's in painting, before heading to the University of Washington, where he earned a master's of fine arts in painting after receiving a Ford Foundation scholarship.
Still, it wasn't until his mid- to late 30s that Lindman considered himself an artist. In an interview with PROGRAPHICA: In the Mind of the Artist, he said, "Before that, I just tried to consider myself an 'artmaker,' trying to avoid any baggage that came from being called an artist. It finally came to me that was pretty pretentious, and I was just an artist."
His initial work was influenced by "the physicality of early Robert Rauschenberg," he stated. His next big influence was a black painting by Ad Reinhardt. "This opened the door to all the Abstract Expressionists; Rothko, Still, Newman, de Kooning, Pollock and Kline to name a few. At the time I was in school, minimalism was big, but I really wasn't drawn to it. I did though respond to people who were dealing with perception like Robert Irwin."
In a book accompanying the exhibition, Kate Casprowiak Scher, associate professor at Bellevue College, noted that Lindman's works "have physical elements that recall nature, but they also invite that sort of calm meditation of looking out at a churning bay or dusky sound. They are both precious, and rugged."
Lindman's art is included in many prominent collections throughout Seattle, Santa Fe, Dallas, Los Angeles and Chicago, including Microsoft, Neiman Marcus, Nordstrom, Boeing, Safeco Insurance and Seattle's Swedish Hospital. His work has been reviewed in ARTnews and has been represented by local galleries and one-person exhibitions, including the Francine Seders, Grover/Thurston and Foster/White galleries, as well as the Darnell Fine Art Gallery in Santa Fe, N.M
– by Sharon Berg
---
How does teaching influence your art, and vice versa?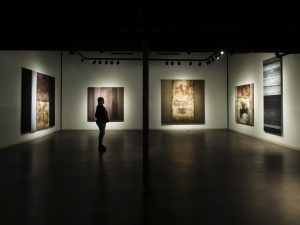 "Art is a visual language. People tend to see what they know. Teaching the beginning student different ways to see is a joy and a privilege. Experiencing their curiosity and tenacity and watching them develop their expressive capabilities and helping them empower who they are is inspiring. It reminds me on a daily basis, that making art is hard work. That failures are far more common than successes. It makes me acutely aware that there is a critical need for me to be patient with a student's development. It reinvigorates my belief that with focus and effort that they can be who they want to be."
What is abstract art?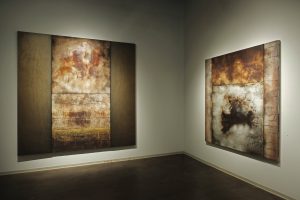 "Personally, I believe that all art is abstract. The most 'realistic' painting is really blobs of color and shapes on a two-dimensional surface arranged in a manner to make the viewer see the scene that is created. Through time what appeared realistic to one era/culture may not appear realistic to another.
My paintings are often compared to landscape, though there is no specific place or scene depicted. My view of them is that they are real objects with surfaces that reflect light in a way that gives me (and hopefully others) a strong contemplative emotional experience. Which is still a wonderful mystery to me!"
Last Updated June 2, 2017