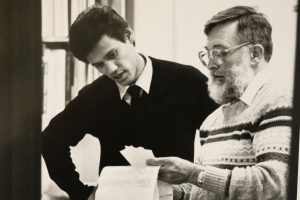 Listeners to the KBCS radio station or readers of The Watchdog student newspaper are probably unaware that they are benefiting from the vision of Craig Sanders.
Sanders, who majored in journalism at Penn State, joined the BC faculty in 1967, one year after the college opened. During his career, Sanders helped launch both of the student media outlets and was instrumental in their continued growth.
"I was hired by Merle Landerholm to be basically journalism and English," said Sanders, who retired in 1994. "I said to him in our interview, 'If you're looking to find someone who's going to censor the newspaper, then you've got the wrong guy.' He said, 'If I thought that you were going to try and censor the newspaper, I wouldn't hire you.' So, there was that kind of stance right away as far as the communications program was concerned."
The newspaper began as The Jibsheet, which was thematically tied to the name at the time for the school's sports teams, which were the Helmsmen.
"The students changed the name of the paper during the Vietnam War," Sanders said. "They named it the Pax-Advocate and they editorialized pretty heavily against the war. It eventually became just the Advocate."
The paper went back to the name The Jibsheet in late 1999 and retained that until becoming The Watchdog.
Sanders also helped found KBCS, which went on the air in 1973. He was the only faculty member at the time with experience acquiring an FCC license, and he had worked previously with two different educational FM stations, he said.
To help get the station on the air, students chose a tactic emblematic of the era.
"When the students wanted to put in a tower, they had a sit-in in the president's office to insist on having a tower for the radio station," Sanders said.
The station began as a student-run operation with outdated, secondhand equipment and an annual budget of $25,000, Sanders said.
"We had early on a Collins radio board and it was the same kind of board that I grew up with in high school," he said. "And that was 1949 when the high school radio station went on the air with the same kind of Collins board. Ancient."
"Money was always a problem because we had equipment that had to be repaired or replaced and we often didn't have the money to do that," Sanders said. "We had a little better success, actually, with the newspaper than we did with the radio station for that reason."
Now, thanks in large part to Sanders' long-ago efforts, listeners can still tune in to 91.3 FM to hear KBCS' wide range of programming, or readers can stop by one of the blue newspaper boxes on campus for a copy of The Watchdog.
Sanders looks back on his contribution fondly and with pride.
"That was probably the most enjoyable part of my teaching load," he said. "I still have some former students that are out there in the industry."
– by Jim Hoehn
---
Related Information
The Watchdog: The Student Voice of Bellevue College
Last Updated June 2, 2017