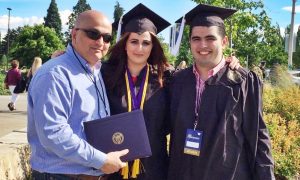 When a family of four immigrated to the U.S. from Azerbaijan in 2011, they had no idea that their academic dreams would be achieved together, with honors.
Husband and wife Emil and Lala Sharifova, along with their children, Elnur and Narmina, all enrolled in Bellevue College, graduating in 2014 with associate degrees and then transferring to the University of Washington (UW). Three years later, they were celebrating another family graduation—Emil and Lala earned bachelor's degrees in business, with honors, from the Bothell campus, while their son, Elnur, earned his bachelor's in biochemistry and their daughter, Narmina, earned her bachelor's in law, societies and justice from the Seattle campus.
Narmina's star has burned especially bright. At the UW, she received a 2015 Office of Minority Affairs and Diversity (OMA&D) Academic Counseling Services' High Scholar Award, and a 2016 Ezra Stotland Award from the law, societies and justice program.
In addition to graduating summa cum laude in 2017, Narmina received the UW President's Medal. Since 1932, the UW President's Medal has been awarded to the graduating senior who has achieved the most distinguished academic record at the university. Beginning in 2004, the president began giving the medal to two graduating seniors: a student who completed at least three-fourths of the degree requirement at the UW and a student who entered the university with at least 60 transfer credits from a Washington community college. As a BC transfer student, Narmina transferred 90 credits and entered the UW as a junior.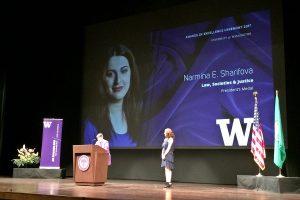 At the 47th Annual Awards of Excellence Ceremony, UW President Ana Mari Cauce noted that "Narmina has seized every opportunity that has come her way."
Not that the road to academic success has been an easy one for the Sharifovas. While pursuing her degree, Lala was diagnosed with cancer, but she continued her studies despite undergoing chemotherapy, radiation and three surgeries.
"My parents served as an example," Narmina said. "We learned to value education and pursue our goals regardless of any difficulties we might encounter."
That dedication is remembered fondly by BC faculty. Sean Allen, associate professor of English, said: "Elnur, Emil and Lala were in my American Literature II class. They were superstar students, and very intellectual." Narmina was also one of his students. "She was insightful and cared about how other students were doing, too," Allen said.
Economics instructor Chace Stiehl had Emil and Lala in his class. "They were among my favorite students in the past few years. They worked diligently and sought to master rather than memorize. I found them both to be straightforward, honest and generous with their lived experiences. They were always looking to use the stuff I was teaching them to understand their past experiences in Azerbaijan. It was fun to see them make those sorts of connections."
– by Sharon Berg
Last Updated June 25, 2018