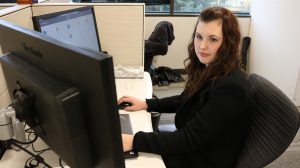 Andrea Coder was one of the first to apply, and graduate, from the Bachelor of Applied Science in Applied Accounting program
Today you'll find Andrea Coder in the stylish new Bellevue offices of CliftonLarsonAllen, the ninth largest accountancy firm in the U.S., juggling the demands of motherhood and her burgeoning career as an associate. But five years ago, her path in life wasn't so clear.
She'd earned an associate degree in photography from Everett Community College in 2010, but found that it was more of a hobby than something she wanted to pursue full time. Her then-boyfriend, now husband, pointed out that she was a great problem-solver and had always enjoyed organizing their finances—maybe she should consider accounting?
Coder has family members in accounting and even remembers asking for a cash register when she was 5. She decided to give it a try and enrolled in accounting classes at Bellevue College. She found, to her surprise, that she loved them. The class sizes were small and the material was applicable, not just theoretical, so she chose to take it to the next level and earn her associate degree.
Just as she was getting ready to graduate, she learned that the college was launching its first Bachelor of Applied Science in Applied Accounting. She was more than interested.
And then Coder discovered she was pregnant. Could she do both?
"It was incredibly important to me to finish school and have a career," said Coder. "So we as a family made the decision that I would finish school over the next couple of years and be a stay-at-home mom. I had my son on a Friday, and I started school that following Monday with an online class. My instructor was very understanding and flexible."
She had her second child a month after she graduated with her bachelor's degree in 2017, and felt ready to re-enter the workforce. She knew she wanted a career in public accounting, and CliftonLarsonAllen was at the top of her list. At a networking event held by the accounting program, she met Teresa Stopka, a director at the firm who also happened to be on the program's advisory committee. Stopka reached out after Coder graduated to talk about opportunities. As soon as a position became available, Coder applied.
She didn't get the job—that time. Coder continued to apply for accounting positions at other firms but kept a close eye on CliftonLarsonAllen.
"I did a lot of research, and I knew they were very growth oriented," Coder said. "And then when I went to interview, even though I didn't get an offer, it was a great experience. Everyone I met was just amazing, and I felt like I clicked with a lot of people."
So she didn't give up, and after another job came up at CliftonLarsonAllen, she applied and was offered a position. She readily accepted.
"It's important to come to a job every day that you're happy in," said Coder. "I knew it would be a good fit."
Her colleagues at CliftonLarsonAllen agree. Mike Mead, one of the firm's principals, said: "Andrea's been a great addition. She works directly with my department, came up to speed quickly, and she brings a whole lot of positivity to the team."
And Coder might be blazing a path for other BC students. Stopka said, "We actively recruit on campus now, and we'll continue to search for other BC grads in the future."
Coder credits faculty with helping her find her path, and preparing her for success after graduation.
– by Nicole Beattie
Last Updated June 25, 2018