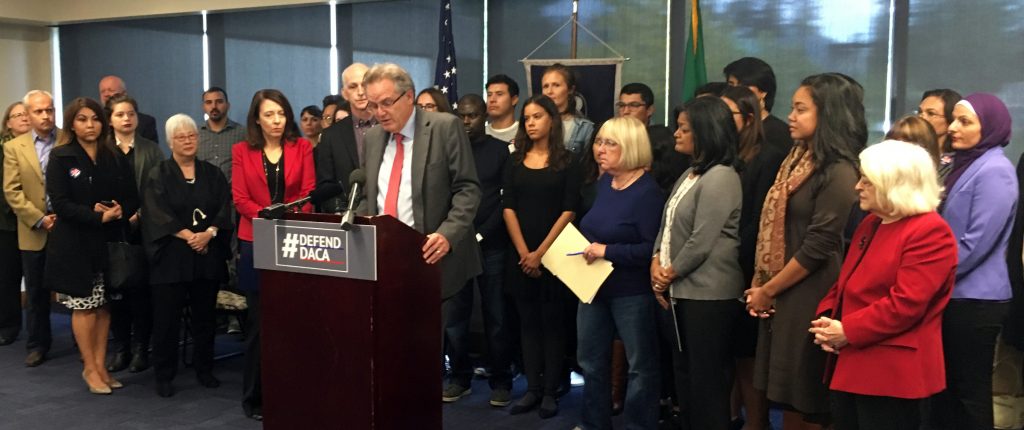 Last fall a number of state lawmakers came to the Bellevue College campus to gain input on important issues that are affecting students, faculty and staff, and to share their insights.
In September, after the BC Board of Trustees passed Resolution 314 in support of Deferred Action of Childhood Arrivals (DACA), U.S. Sens. Patty Murray and Maria Cantwell and U.S. Reps. Adam Smith and Pramila Jayapal held a press conference on BC's campus to defend DACA and voice their support for DREAMers.
At the presser, BC president Dr. Jerry Weber shared a letter he'd received from a BC DACA student, and BC alum Jose Manuel Vasquez, director of leadership development and programs for the Latino Community Fund of Washington, spoke about his personal experience. Brought to the U.S. by his undocumented parents at the age of 7, Vasquez grew up in South Seattle. He said he's in a state of "legal limbo" when it comes to his immigration status and is unsure whether he could plan for a future in Washington.
The lawmakers also took time to speak with students and community members to learn more about how changes in federal policy would affect them.
In October, Seattle Councilmember Lorena González came to the BC campus to recognize the trustees' decision to support DACA students and share her story with students, faculty and staff as part of a series of events for Homecoming Week. Born to a Spanish-speaking migrant farmworker family and raised in Yakima Valley, González relied on scholarships and earnings from three jobs to work her way through community college, Washington State University, and Seattle University Law School. She graduated from law school with honors in 2005 and went on to become a nationally recognized civil rights attorney and community advocate. After a decade of representing workers in wage theft and anti-discrimination cases, she ran for office and was elected the first Latina/o to serve on the Seattle City Council.
"Standing up for the rights of immigrants, and particularly DACA recipients, is something I'm deeply committed to, not only because of my personal journey, but because the contributions of our immigrant friends and neighbors strengthen our shared community," said González. "I applaud Bellevue College for standing shoulder-to-shoulder with DACA recipients when their board of trustees passed their own resolution in support of DREAMers. Community colleges play a big role in creating pathways for immigrant and first-generation students to achieve their dreams, just like mine."
Also in October, Gov. Jay Inslee held a Climate Change Town Hall that filled the 300-seat Carlson Theater to capacity and was live-streamed on BC's college channel. The event was part of a series of town halls Inslee held at college campuses that month to emphasize the importance of climate action and policies, and take questions from students and the public. Dr. Weber; Amber Nicholson, BC director of sustainability; and BC faculty member Kent Short contributed to the introductory presentation.
"I believe that higher education has a special role to play in climate change action," said Weber. "Our universities and colleges can provide research and technology breakthroughs; however, we can also build the workforce needed to implement new, clean energy technologies, like wind, solar and battery storage.
– by Nicole Beattie
Last Updated June 11, 2018