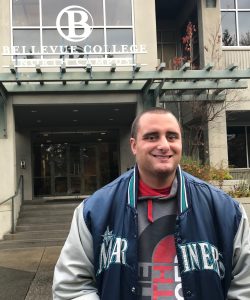 Joey Wilson, who is working on his associate degree through the Occupational & Life Skills (OLS) program at Bellevue College, is learning to be a citizen advocate. Wilson, 26, a member of the developmental disability community, works part time as a grocery clerk and has moved from living in a group home to his own apartment.
Once he gets his associate degree, he'd like to work in building maintenance, the sports industry, or potentially go on to earn a bachelor's degree, but he thinks that the current annual income cap under the Apple Health for Workers with Disabilities program is a barrier.
"It holds you back from reaching your full potential," said Wilson. "[Raising the income limit] would open the door for a lot of people for new jobs and opportunities and allow them to advance their careers. This is a very important issue. I think that something should be done because this law hasn't been updated in around 10 years or so."
When Cathy Murahashi, family engagement coordinator for the Arc of King County, visited the OLS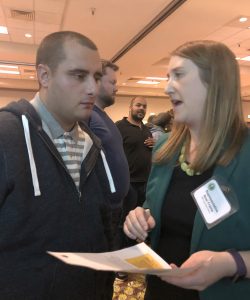 Citizenship class as a guest speaker, Wilson shared his experience. Murahashi asked if she could include his story in the legislative packet that her organization was presenting at the King County Board for Developmental Disabilities Legislative Forum last November, and Wilson agreed. The event drew 670 attendees.
OLS students enrolled in the citizenship course attended the forum with their instructor, Herb Johnston, as part of the course curriculum. "We teach our students to advocate for themselves as part of their journey to becoming independent and contributing members of society," said Johnston. "This was an opportunity for them to learn more about the legislative process, and connect with other members of the developmental disability community."
Wilson, a lifelong resident of the Queen Anne neighborhood in Seattle, was fortunate to meet Noel Frame, his 36th District representative, to discuss the issue.
"Joey is a great example of what it means to be a citizen advocate," said Frame. "By sharing his story, he is helping to make a difference, not only for himself, but for many others in the developmental disability community. I'm excited to explore this issue and see if we can find a solution."
And Wilson has some advice for people facing similar barriers. "Never stop self-advocating. Reach out for issues important to you. Follow your dreams—the sky is the limit."
– by Maile Allen
Last Updated October 8, 2019