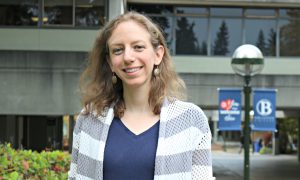 Christina Sciabarra had a chance to witness firsthand the consequences of failed diplomacy during her tour of duty in Iraq as a member of the Navy Reserve in 2010. The experience inspired her to serve her country in a different way—through public service and scholarship in the field of peacebuilding.
Today you might find her working with immigrants seeking employment or academic help as the director of the Center for Career Connections at Bellevue College, instructing BC students on Middle East politics and society, or researching post-civil-conflict peacebuilding as an advanced doctoral candidate at the University of Arizona. That's in addition to acting as the U.S. program director for the Youth to Youth Initiative and the new president of Civil Vision International, an organization focused on facilitating cross-cultural dialogue.
It's a breadth of work that helped her land in the 2018 Henry M. Jackson Leadership Fellows Program, which invests in the leadership development of highly qualified young professionals like Sciabarra. The program's goal is to foster a bipartisan approach to challenges in the fields of international affairs, human rights, environment and natural resources management, energy and public service. Each year the Henry M. Jackson Foundation elects eight young, civic-minded leaders 40 years old and under in the Greater Seattle area. The nine-month program encompasses participation in Foundation events, a project where Fellows are mentored by community leaders, monthly meetings and a culminating trip to Washington D.C., where Fellows are introduced to congressional and U.S. government policymakers.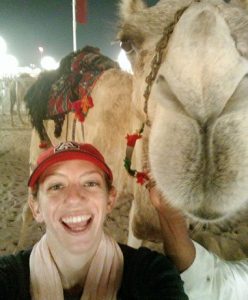 Sciabarra plans to gear her Jackson Fellows project toward encouraging college-age women to get involved in politics and run for office.
"The U.S. has one of the lowest percentages of women who are elected officials," said Sciabarra. "We need women to see themselves as leaders at every level of society and build a culture in which women's leadership isn't viewed as something outside of the norm."
Currently women hold 19.6 percent of the seats in Congress, and according to statistics from The World Bank, that's a smaller percentage than other countries like Sweden (44%), Spain (39%), Uganda (34%), Bolivia (53%), Ethiopia (39%) and Mexico (43%). An article from the Pew Research Center published in January 2015 found that "about four-in-ten believe higher standards for women and lack of readiness by companies to hire women for top positions and by voters to elect women to higher office are major reasons that there aren't more women in top leadership roles in business and politics."
The article also stated that "about two-thirds of Americans, including majorities of men and women alike, say it is easier for men than women to get elected to high political offices and to get top executive positions in business," a view that increases 13 percentage points among millennials.
"I want to help everyone understand that leadership isn't dependent on gender," said Sciabarra. "It's about a commitment to service."
– by Nicole Beattie
Last Updated June 25, 2018