The Molecular Biosciences Program at Bellevue College started in the fall 0f 2016 with two new degrees, the Molecular Sciences Technician AAS-T and the Molecular Biosciences BAS. Since that time, we've had nearly 50 graduates and our enrollment continues to grow. Our degrees are unique in that they focus on teaching applicable skills as well as providing strong academic foundations. Students can expect to develop their skills in laboratory processes and equipment usage, data collection and analysis, project management and general business for laboratory settings, and scientific communication. As we look to the future we see opportunities for our graduates to work in fields such as vaccine research, food science, forensics, molecular biology, biochemistry and more. Students will be able to explore these interests and more in our newly remodeled laboratory scheduled to open sometime in 2021. We look forward to welcoming you to our programs!

Program Features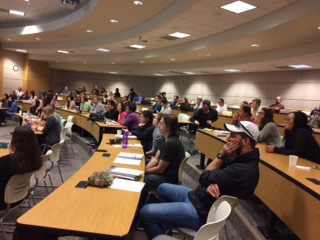 Curriculum geared towards employability
Affordable (half of what it would cost at other local institutions)
Hands-on research experience
Modern laboratories
Small class sizes
Seminars presented by current research and industry professionals
Faculty & Staff
Learn more about our program faculty and staff.
Hands-on Research
Students in both degree programs have opportunities to conduct hands-on research. Learn more about hands-on research in the Molecular Biosciences program…
Graduates—Where are They Now?
Graduates from the Molecular Biosciences program have gone on to employment in various industries as well as to pursue graduate and professional education. Learn more about where our graduates are now…
Tell Others about the MBS Program
If you know someone you think would be interested in learning more about the Molecular Bioscience program at Bellevue College, please download and share this PDF of the postcard below with them. We'd love to hear from them!
Last Updated October 20, 2020