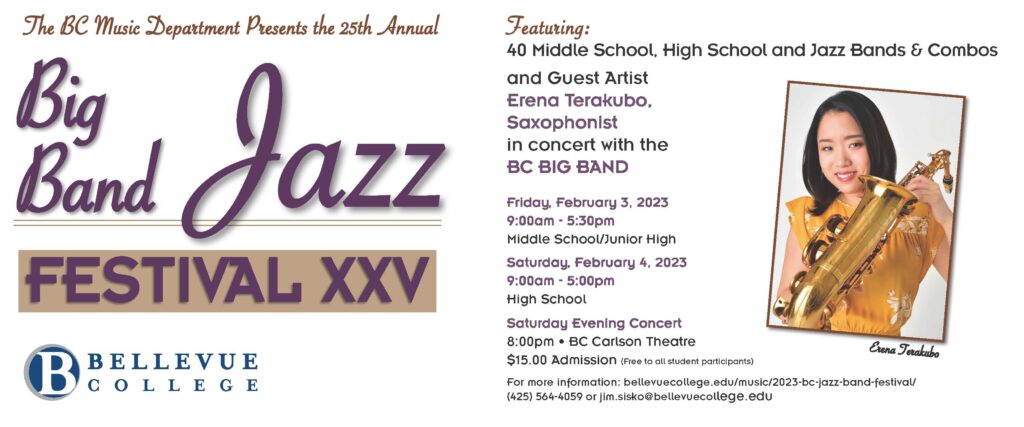 Greetings fellow band directors. I hope you had a wonderful summer and are hitting your stride this fall! I would like to take this opportunity to invite you to participate in the 25th Annual Bellevue College Jazz Band Festival. We are thrilled to have Erena Terakubo, saxophonist, as our guest artist for this year's festival.
Over the past few years we have worked to improve the musical and educational experience for you and your students, and this year is no different!
All preliminary performances will be live-streamed on the Bellevue College website.
Live Stream
High School Combo Division
Student groups will perform and receive feedback onstage from our artists. One ensemble will be chosen to perform on the Saturday evening concert.
Extended Performance & Clinic Times
Middle/Jr. High Division will enjoy 20-minute performances and 35-minute clinics.
High School Division will enjoy 30-minute performances and 45-minute clinics.
Masterclass/Performance
Erena Terakubo will provide a masterclass and performance on Friday/Saturday afternoon and will be featured with the Bellevue College Big Band on Saturday evening.
Web Registration
Registration has been moved 100% online. We hope you enjoy this new streamlined method for enrollment!
As always, we look forward to hosting you and your students at the 25th Annual Bellevue College Jazz Festival.
Please, click on the bottom below to start your registration.
Register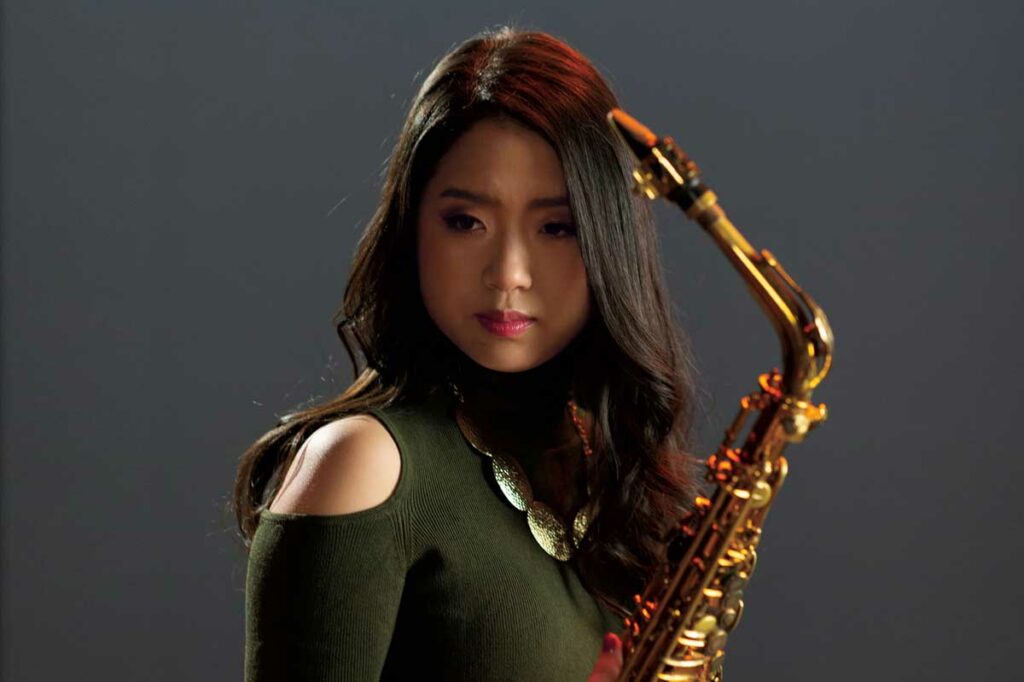 Erena Terakubo was born in Sapporo, Japan. She began playing the alto saxophone at the age of nine. Terakubo played the saxophone influenced by artists such as Charlie Parker, Cannonball Adderley, and Sonny Stitt.
In 2010, Terakubo released her first album, "North Bird" with Kenny Barron, Christian McBride, Lee Pearson, and Peter Bernstein, through Japanese major label King Records. It marked No. 1 on the Japanese jazz charts and was awarded Swing Journal's Gold Disc. Later that year, she performed with Ron Carter, Omar Hakim, and Will Boulware at the Tokyo Jazz Festival. In 2011, Terakubo recorded her second album, "New York Attitude" with Kenny Barron, Ron Carter, Lee Pearson, and Dominick Farinacci. In the same year, she received a presidential scholarship from Berklee College of Music. She graduated in 2015. She moved to New York in the same year.
Terakubo has performed with Kenny Barron, Ron Carter, Jimmy Cobb, Louis Hayes, Vincent Herring, Christian McBride, John Beasley's Monk'estra, Lewis Nash, and Lenny White just to name a few. In addition, Terakubo has toured around the globe as a leader including Asia, Europe, Africa, South America, Australia, and the Middle East. Terakubo released 6 albums as a leader.
FRIDAY: Middle/Jr High Schools – 9:00 am to 5:30 pm: 20 minute performance, 35 minute clinic.
SATURDAY: High Schools – 8:00 am to 5:00 pm: 25 minute performance, 45 minute clinic.
High School Combo Division.
Live streaming of daytime performances.
CD recording of each group's performance & Judge Comments.
State of the art sound reinforcement.
Masterclass and performance by Guest Artist.
Competitive or "Comment-Only" option.
Awards will be given at the end of the day and evening concert.
Awards will include outstanding bands and outstanding soloists
Saturday Evening Concert is free to all participants
BC's Jazz Band, directed by Jim Sisko, will host the 25th annual Bellevue College Jazz Band Festival. There will be 40 Middle School, High School and College Jazz Bands and Combos participating over two days.
Schedule
Friday, February 3, will be an all day event for Middle Schools from 9:00 am to 5:30 pm. Friday will come to an end presenting the top three schools with special recognition in addition to a special presentation of 8 individual awards.
Saturday, February 4, from 8:00 am to 5:00 pm, the High schools will compete. At 5:00 pm the top three schools will be selected for the evening concert. The evening concert will start at 8:00 pm with the top three high schools performing followed by a performance by own BC Jazz Band with guest artist Erena Terakubo.
Guest artist saxophonist Erena Terakubo will be performing at a clinic on Friday & Saturday during the lunch hour; as well as, performing with the BC Jazz Band in the Saturday evening concert.
Award Announcement
At the end of the Junior High and Middle School competition on Friday, soloist awards, a winner and two runners up will be selected and announced. At the end of the day on Saturday, soloist awards will be announced and three high school bands will be selected to perform in the evening concert. All high school bands, including those that perform on Friday are eligible to be selected as showcase bands on the Saturday evening concert. Places are determined solely by the afternoon scoring. The three showcase bands will lead off the Saturday evening concert, and the performance order will be determined by a random draw.
Traditionally, junior high and middle school bands have performed on Friday and high school bands have performed on Saturday. If needed, we are happy to host a high school band on Friday if it helps with your travel arrangements.
QUESTIONS? – PLEASE CALL OR E-MAIL:
NAEIM RAHMANI
(425) 564-3114
naeim.rahmani@bellevuecollege.edu
JIM SISKO
(425) 564-4059
jim.sisko@bellevuecollege.edu

SCHEDULE
Sat. 2/4/23
MUSIC DIRECTORS
WARM-UP
PERFORM
CLINIC RM. A
CLINICIAN
CLINIC RM. B
CLINICIAN
LINCOLN JAZZ II
NEIL WELCH
8:15 AM
8:40 AM
9:05 AM
Shaw
MOUNT SI JAZZ III
DANNY KOLKE
8:40 AM
9:05 AM
9:30 AM
Schaff
LAKESIDE
ERIC PATTERSON
9:05 AM
9:30 AM
9:55 AM
Barduhn
JUANITA
ANNEMARIE SMITH
9:30 AM
9:55 AM
10:20 AM
Shaw
EASTLAKE
LUKE DAHLBERG
9:55 AM
10:20 AM
10:45 AM
Schaff
SEATTLE ACADEMY
STUART MACDONALD
10:20 AM
10:45 AM
11:10 AM
Barduhn
MOUNT SI JAZZ II
ROBBIE RUTHERFORD
10:45 AM
11:10 AM
**1:00 PM
Shaw
Break (25 Minutes)
Break
Break
Break
MASTERCLASS w/ERENA TERAKUBO
12:00 PM to 1:00 PM
Break (25 Minutes)
Break
Break
Break
WEST SEATTLE
ETHAN THOMAS
1:00 PM
1:25 PM
1:50 PM
Schaff
CLACKAMAS C.C.
LARS CAMPBELL
1:25 PM
1:50 PM
2:15 PM
Barduhn
NEWPORT JAZZ I
TODD MAHAFFEY
1:50 PM
2:15 PM
2:40 PM
Shaw
GARFIELD
JARED SESSINK
2:15 PM
2:40 PM
3:05 PM
Schaff
BOTHELL
PHIL DEAN
2:40 PM
3:05 PM
3:30 PM
Barduhn
BELLEVUE JAZZ I
EDD GEORGE
3:05 PM
3:30 PM
3:55 PM
Shaw
MOUNT SI HS JAZZ I

BILL LEATHER
3:30 PM
3:55 PM
4:20 PM
Schaff
ROOSEVELT JAZZ I
HANNAH MOWRY
3:55 PM
4:20 PM
4:55 PM
Barduhn
BC JAZZ BAND
JIM SISKO
4:20 PM
4:55 PM
AWARDS and Evening Performers announced
5:45 PM
EVENING CONCERT
8:00 PM
EVENING CONCERT
Featuring Erena Terakubo with the BC Big Band.
FEBRUARY 4, 2023 | 8:00 PM
CARLSON THEATRE
$15 GENERAL
FREE to all student participants.
Buy Tickets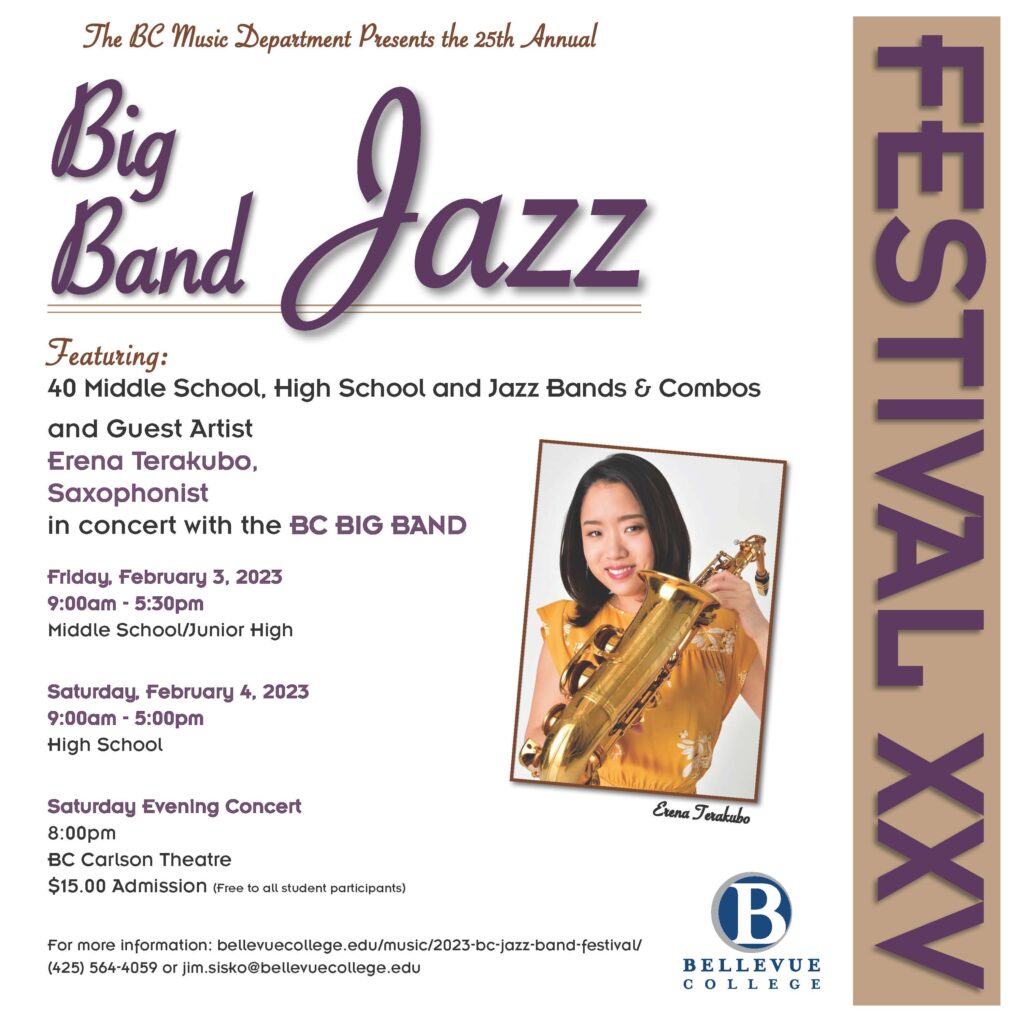 SCHEDULE
Friday 2/3/23
Band Director
WARM-UP
PERFORM
CLINIC RM. A
CLINICIAN
CLINIC RM. B
CLINICIAN
CENTENNIAL M.S.
LANE WILKINSON
9:20 AM
9:40 AM
10:00 AM
Barduhn
TILLICUM M.S.
GWYN BARKMAN
9:40 AM
10:00 AM
10:20 AM
Shaw
TWIN FALLS
ERIN LAMPE
10:00 AM
10:20 AM
10:40 AM
Schaff
HEATHERWOOD M.S.
DREW BADDELEY
10:20 AM
10:40 AM
11:00 AM
Barduhn
10th STREET M.S.
NATHAN SACKMAN
10:40 AM
11:00 AM
11:20 AM
Shaw
CHINOOK M.S.
MEAGAN MANGUM
11:00 AM
11:20 AM
**1:00 PM
Schaff
Break
Break (20 minutes)
1:00PM
MASTERCLASS w/ERENA TERAKUBO
12pm to 1pm
Break
Break (20 minutes)
CAVELERO MID HIGH
BRIAN KORESKI
1:00 PM
1:20 PM
1:40 PM
Barduhn
JANE ADDAMS M.S.
ELENA HENSIEK
1:20 PM
1:40 PM
2:00 PM
Shaw
ECKSTEIN M.S. JUNIOR
MOC ESCOBEDO
1:40 PM
2:00 PM
2:20 PM
Schaff
VALLEY VIEW M.S.
MIKE MINES
2:00 PM
2:20 PM
2:40 PM
Barduhn
MADRONA M.S.
MATT EDWARDS
2:20 PM
2:40 PM
3:00 PM
Shaw
WASHINGTON M.S.
MIKE SUNDT
2:40 PM
3:00 PM
3:20 PM
Schaff
ECKSTEIN M.S. SENIOR
MOC ESCOBEDO
3:00 PM
3:20 PM
3:40 PM
Barduhn
Jazz on Film
3:40 PM
Bellevue College Big Band with Erena Terakubo
4:20 PM
Awards Ceremony
4:50 PM
Last Updated February 2, 2023