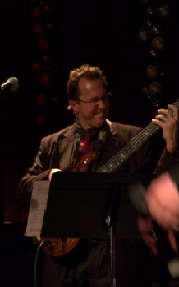 Biography:
Kelly teaches Bellevue College's Music Technology and Audio Music Production classes.
Kelly has a B.A. in Music and a M.A. in Music education. Both from Central Washington University. He currently teaches Audio Production and Music Theory at Bellevue College in. Over the years, Kelly has developed a reputation as one of the finest vocal jazz directors in the country.
Aside from being musical director and one of the founding members of GFT(Groove for Thought), Kelly has worked steadily as a studio singer and arranger for many years. He has his own project studio, doing tracks for commercials and arrangements for many different kinds of projects. A majority of the music heard on GFT's debut CD, was recorded there as well.