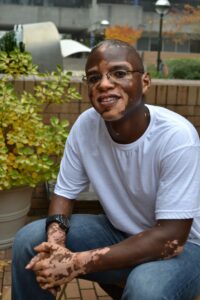 Award recognizes lives transformed by Washington state community or technical colleges 
Recent Bellevue College graduate, Alain Patience Mizero received a $500 "Transforming Lives" award from the Trustees Association of Community and Technical Colleges (TACTC) at a special ceremony on Sunday, Jan. 19, in Olympia.
The annual Transforming Lives award honors students and graduates who overcome barriers to achieve their higher education goals, demonstrating how Washington community and technical colleges help transform lives through education and support. Each of the 34 community and technical colleges in Washington fielded a nominee and five were selected.
Mizero was born in Rwanda with medical complications at birth which led to permanent disability in his right arm. Despite teasing and isolation, he held onto his dream of studying software engineering and finished high school in one year instead of three. He was selected to study in France based on his academic achievements, but his studies were cut short when he suffered an aneurysm. Brain surgery left him with limited peripheral vision in his left eye and caused him to lose his languages (French and Kinyarwanda) and required a year of rehabilitation to regain and master his language skills.
While he didn't finish his education in France as he had hoped, he used his experiences to focus his sights on the United States. He came to the U.S. in 2010, knowing only a friend of a friend. He soon ran out of money and was homeless for a year. A shelter volunteer helped him find a room in a house near Bellevue College, and in fall 2011, he enrolled at the college.
Mizero graduated in December 2013 from Bellevue College with an associate transfer degree in computer science and began his first quarter at Western Washington University this month.  He plans to pursue a degree in software engineering.
Last Updated April 9, 2014