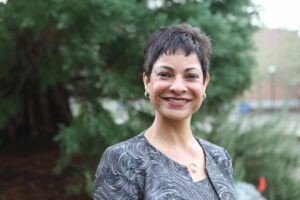 Washington Governor Jay Inslee has named Shelmina Babai Abji, of Bellevue, to the Board of Trustees of Bellevue College. In this role, Abji will participate in the six-member board, whose duties include setting the college's strategic direction, establishing policy for the college, and approving budgets.
"Bellevue College is very fortunate to have community leaders like Shelmina who are ready and willing to step into governance roles on our campus and bring fresh, new, exciting ideas," Bellevue College President Dr. David Rule said. "This is an exhilarating time on our campus as we head into our 50th anniversary year; exciting ideas and opportunities are on the horizon."
Abji, an accomplished senior executive in the information technology sector, excels at building trust and confidence with stakeholders to create win-win scenarios. Prior to her recent tenure as Vice President at IBM Corporation, she ran Mina Technologies, an IBM business partner that enables clients to gain visibility, control and automation of their IT infrastructure. Before starting her own business, she spent 19 years with IBM in technical and sales positions.
"I am passionate about creating an enabling environment to empower students from all walks of life to realize their maximum potential," said Abji. "I am the first person in my family to obtain a college degree and have experienced firsthand how access to good education can help not just the individual but also their families, their extended families and indeed the community at large!"
As an active member of the mentoring community, Abji keenly works to support and empower new generations of community leaders and has led numerous mentoring programs both in the workplace and in the community. She is on the board of Young Women Empowered, a non-profit that focuses on empowering young women from diverse backgrounds to step into leadership roles in their places of work and in the community at large.
Abji earned her Bachelor of Science in computer science from the University of Wisconsin-La Crosse and her Bachelor of Science in mathematics, first class, from the University of Poona, India. Born and raised in Tanzania, Africa, she now lives in Bellevue with her husband and two children.
"I had to leave home at the age of 15 to pursue higher education in another city and then in another country at the age of 18," said Abji. "This country has enabled me to become who I am and I am grateful for the opportunity to pay forward."
Abji replaces Marie Gunn, who retired from the Bellevue College Board after a 5-year term.
Last Updated January 15, 2015