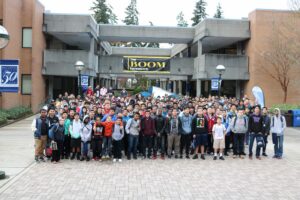 Bellevue College is partnering with the Bellevue School District to host The BOOM (Break Out Of the Margin) Experience, an all-day conference designed to support Black, Latino and Native American male students on Tuesday, December 13. The conference will cover topics including racial identity, privilege, leadership, and how to Break Out Of the Margin.
The BOOM Experience is a program designed for male students that racially identify as African, Black, Latino, Native American or mix of any, who are in grades 7-12 in the Bellevue School District. BOOM provides an opportunity for these students to connect, be inspired, find support and to be lead and taught by men who also racially identify like them. Students will spend the day learning and engaging in discussion around race, culture, leadership and self-empowerment by participating in workshops such as:
Who Am I
Here comes the BOOM
Breaking Barriers Together
The "Cheat Code"
You-You on That Beat: Success Planning 101
No More Excuses
Cost to Be a Young Man
Stop Frontin
How Spoken Word Poetry Can Change Your Life
My Voice, My Life, My Future
It Was All a Dream: From Biggie Smalls to Your Own Truth
Who Am I & Who We Are
Path to Greatness
Bellevue College instructor Fernando Perez chose to be one of the facilitators of the event, "because I want all of these young Black and Brown me to see me and to know that I see them. I didn't have a Black or Brown male role model throughout my education until I reached Graduate School. No one should have to wait that long to see themselves in the faces of those who fill their heads with cultural currency and knowledge."
Organizers expect participation from more than 300 students, community members and leaders.Participants will begin arriving on the Bellevue College campus at 8:30 a.m. For a full schedule, please visit: http://www.bsd405.org/departments/equity/boom/.
Last Updated December 13, 2016