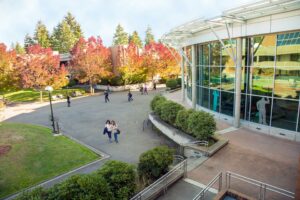 (Bellevue College Interim President Dr. Jill Wakefield sent the message below to the BC community on January 30.)
Dear Bellevue College Community,
This weekend, I returned from teaching a leadership and cultures course in Turkey, where my students—all Muslim—expressed their commitment to making their communities, their countries, and the world a better place as we move to a more interconnected future. I was inspired by their enthusiasm, and impressed with their dedication to values we all share. I was surprised, and shocked, to come home through an airport where many people were being detained.
We are saddened and disheartened by the recent executive order banning the entry of refugees, immigrants and visa holders from specific countries into the United States. While the situation is still dynamic and rapidly changing, I want to assure you that Bellevue College is here to support our international students in every possible way. Our Office of International Education and Global Initiatives (OIEGI) is in contact with the State department, and we are monitoring developments closely.
Bellevue College is proud to be a home to students, staff and faculty from around the world, including several of the countries affected by this order. At least nine of our students in OIEGI are from countries affected by this travel ban.  Our advisors are working to help them make the best decisions regarding their future travel plans. Regretfully, at this time, we recommend students, faculty and staff from these nations avoid international travel: Iran, Iraq, Yemen, Libya, Sudan, Syria, and Somalia. If you know of students, faculty or staff who are impacted by this, please contact either OIEGI at 425-564-3185 or via email at oie@bellevuecollege.edu, the Office of Instruction at 425-564-2305 or the Counseling Center at 425-564-5747 with details so we can get in touch with them.
We hope that enlightened thought and compassion will temper the actions of the administration going forward. We value the contribution of international students to our community, and stand with them. As stated in our Affirmation of Inclusion, "Bellevue College is committed to maintaining an environment in which every member of the campus community feels welcome to participate in the life of the college, free from harassment and discrimination. We value our different backgrounds at Bellevue College, and students, faculty, staff members and administrators treat one another with dignity and respect."
We will continue to monitor the situation and keep you updated with any changes, and we remain deeply committed to maintaining an inclusive and safe campus for all.

Dr.Jill Wakefield
Interim President
Bellevue College
Last Updated February 1, 2017