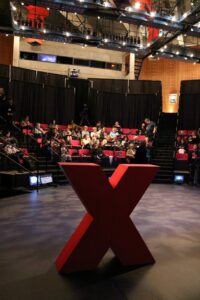 The first TEDxBellevueCollege was held in the Carlson Theatre yesterday, and streamed live in simulcast rooms on campus. The event turned its focus to the theme of 'perception', with topics ranging from the importance of silence in healing communities, why it's never too late to quit a successful career in corporate America to start a rock band, and how an understanding of neurodiversity can help institutions develop the unique potential of each member in their organization.
One of the speakers, Paula Boggs, brought her life experience to the table as a former Starbucks executive and lawyer who found the courage to be her true self, trading the corporate world for her dream of starting a bluegrass band. She has now released a full album and an EP, and tours the country with her band.
"Bellevue College hosted an important and timely day of ideas and I was honored to be part of it," said Boggs. "Preparing for Tedx challenged me and by sharing my story I hope others are inspired, as I was in listening to the stories of others, to view the world through a slightly different lens."
Kyle Grant Wilson, a Navajo poet, educator at Arizona State University, and expert in indigenous rhetoric, travelled all the way from Arizona to speak on the public's perception that the effects of colonization aren't still being felt by indigenous communities.
"Not many people know about indigenous people, and indigenous history, and there're very narrow perceptions of who we are today," said Wilson. "And my vision…is we need everyone in this nation to be involved, and to be invested, in the interests of native people, or indigenous people."
Audience members were encouraged to explore their own perceptions with a series of interactive displays including a six-foot poetry board, Microsoft HoloLens, and cards with messages written in different languages about perceptions that would only be revealed in English with a black light.
"I liked a lot of what TED has been doing, so actually coming out and seeing one of their shows is something I've been really wanting to do," said BC student Andrew Peterson.
Originally scheduled for Feb. 7, the event was postponed due to record snowfall and the campus closure that day. Over 600 people applied for one of the coveted seats at TEDxBellevueCollege, which was limited to 100 for the live experience for its inaugural event.
"We were thrilled with the response, and to anyone who couldn't come, know that we'll have the videos up for viewing as soon as possible." said Alonda Williams, TEDxBellevueCollege founder and organizing committee member.
The independently produced event, operated under a license from TED, was organized by community volunteers and is aimed at creating dialogue as well as giving people a forum to share their passions, ideas and experiences.
Speakers and performers included:
Kyle Wilson, Navajo poet, educator at Arizona State University, and expert in indigenous rhetoric
Micki O'Brien, Co-Founder, Aligned Education; teacher, speaker, author
Norm Alston, The Pied Piper of Math: Educator and mathematician helping kids find the fun in math
Fernando Perez, Poet and assistant professor of writing at Bellevue College
Jane Wong, Visiting assistant professor at Pacific Lutheran University
Tammi Doyle, Senior associate professor of drama and chair of Theatre Arts at Bellevue College
Paula Boggs, Musician, lawyer
James Osborne, Internet technology director at Bellevue College, author
Dr. Nancy Gonlin, Archaeologist, senior associate professor of anthropology at Bellevue College
Jenni Flinders, Former Microsoft VP helps people learn the lost art of etiquette
For more information or photos about the event, visit www.bellevuecollege.edu/tedx.
---
About Bellevue College:
With an annual average enrollment of over 33,000, Bellevue College is one of the largest educational institutions in Washington State. BC offers associate degree programs covering the first two years of a college education as well as four-year bachelor's degrees, certificates and continuing education programs in nearly 100 professional and technical fields, such as information technology, telecommunications, business, education, health and public safety. Visit and learn more at www.bellevuecollege.edu
About TEDx, x = independently organized event
In the spirit of ideas worth spreading, TEDx is a program of local, self-organized events that bring people together to share a TED-like experience. At a TEDx event, TED Talks video and live speakers combine to spark deep discussion and connection. These local, self-organized events are branded TEDx, where x = independently organized TED event. The TED Conference provides general guidance for the TEDx program, but individual TEDx events are self-organized. (Subject to certain rules and regulations.)
About TED
TED is a nonprofit organization devoted to Ideas Worth Spreading, usually in the form of short, powerful talks (18 minutes or fewer) delivered by today's leading thinkers and doers. Many of these talks are given at TED's annual conference in Vancouver, British Columbia, and made available, free, on TED.com. TED speakers have included Bill Gates, Jane Goodall, Elizabeth Gilbert, Sir Richard Branson, Nandan Nilekani, Philippe Starck, Ngozi Okonjo-Iweala, Sal Khan and Daniel Kahneman.
TED's open and free initiatives for spreading ideas include TED.com, where new TED Talk videos are posted daily; the Open Translation Project, which provides subtitles and interactive transcripts as well as translations from thousands of volunteers worldwide; the educational initiative TED-Ed; the annual million-dollar TED Prize, which funds exceptional individuals with a "wish," or idea, to create change in the world; TEDx, which provides licenses to thousands of individuals and groups who host local, self-organized TED-style events around the world; and the TED Fellows program, which selects innovators from around the globe to amplify the impact of their remarkable projects and activities.
Follow TED on Twitter at http://twitter.com/TEDTalks, on Facebook at http://www.facebook.com/TED or Instagram at https://instagram.com/ted.
Last Updated April 20, 2017