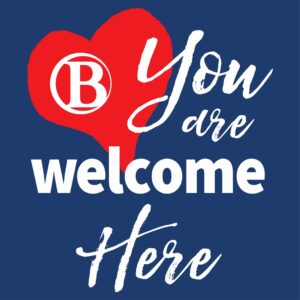 Dear BC Community,
We have all been disturbed by recent incidents that have affected our community, from the posting of prohibited literature on our campus, to divisive rhetoric across the nation that attempts to silence the conversations surrounding inclusion, pluralism, and equity.
But I am so very proud of the college's groundswell of support for our diverse, vibrant campus community. And we're grateful to the passionate advocates who challenged us to find a way to tangibly demonstrate our commitment to inclusion, and offer a response that shows we mean what we say.
Which is why we are launching our 'You Are Welcome Here' campaign. This inclusive message encapsulates our ongoing dedication to all of our students regardless of country of origin or immigration status, and our affirmation of inclusion that we are "committed to maintaining an environment in which every member of the campus community feels welcome to participate in the life of the College, free from harassment and discrimination."
On April 5, as part of the Spring Welcome Fair, there will be a table where you can pick up a flier to post on your door or window, or a button you can wear to show your support. Copies of the flier will also be available at the Office of Equity and Pluralism.
We also have a BC Commitment to Students page with Bellevue College resources for refugee, immigrant or international students, federal and state laws and policies that could impact them, as well as community and national resources. Please share this information with your colleagues and students.
We are also planning a town hall meeting this quarter about these issues, and will send more information about that soon. Many thanks for your courage, kindness, and the institutional integrity of this wonderful community we all share.
Sincerely,

Dr. Jill Wakefield
Interim President
Bellevue College
Last Updated April 5, 2017