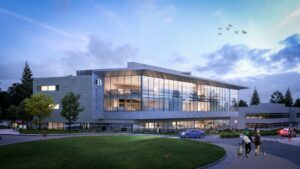 On August 23, the Bellevue College community and local leaders celebrated the groundbreaking of the new Student Success Center. Slated for completion in early 2020, the project will create an integrated and seamless service experience for students by housing multiple support programs in one state-of-the-art facility.
"This Student Success Center will change the way our students enter the college and how we support them on their journey through higher education. All the functions for entering the college will be in one location as will the services that support student success," said Dr. Jerry Weber, president of Bellevue College. "Currently these offices and services are scattered across the campus and by locating more programs together, we increase awareness of what's available, like our Veteran's program or Multicultural Services."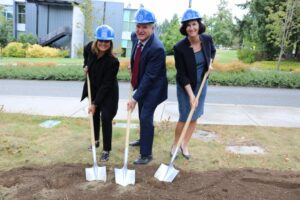 The 69,000 square foot facility encompasses three floors that mirror students' progression through their academic journey. The Welcome Center and Academic Advising will be on the first floor to get students off to a great start. The second floor is dedicated to support for enrolled students with offices for programs such as Multicultural Services and Counseling, and the Office of International Education and Global Initiatives. The third floor will be geared toward enrichment, including the Veteran's program and Center for Career Connections.
Among the leaders attending the ceremony were State Representative Vandana Slatter and City of Bellevue Deputy Mayor Lynne Robinson.
"We have so many tech jobs coming to our region over the next four years. Programs like the ones Bellevue College offer will be essential to developing our workforce," said Robinson. "I also appreciate that the Student Success Center is a community gathering space where small conferences and community groups can convene."
The building will also incorporate green building design and the project is targeting LEED Gold certification.
"As we expand campus facilities, it's important to do so in a way that minimizes our carbon footprint," said William Tribble, executive director of campus operations. "Of course we'll be adopting measures like energy efficient lighting and recycling lumber, but we're also engaging in some out-of-the-box ideas, like constructing furniture sourced and built from campus trees."
The flagship Student Success Center will be prominently located at the main entrance to the college, making it easy for new students, and visitors, to get more information about the institution.
Last Updated August 24, 2018