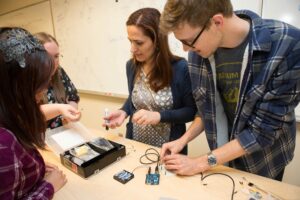 Up to 200 autistic high school and college students, their family members, and the educators and professionals who support them will converge on the Bellevue College (BC) campus May 11 for a truly unique conference, "Imagine Your Future in STEM" which will focus on "Autism and STEM: Fostering Balanced and Inclusive Communities at School and at Work."
The event is the result of a collaborative partnership between Stairway to STEM (STS), Bellevue College's RISE Learning Institute and the Autism Spectrum Navigators Program (ASN). With one in 59 children diagnosed with autism, a spectrum condition with significant variability in the experiences of those diagnosed, the conference seeks to address the often difficult transition autistic students experience from high school to college and the workforce.
"Events like these can open up a new world to students and their families, as well as professionals and educators, who may be wondering if there is a place for the autistic student in college," said ASN Program Director Sara Gardner. "The answer is yes!"
Conference panels and presentations will explore the skills and resources needed for collegiate and workplace success, including considerations such as self-advocacy, internal motivation, and organizational and executive functioning abilities. Attendees will also explore environmental resources and the value of a neurodiverse workplace, and they'll gain insight from BC STEM faculty and BC STEM students as they share best practices and discuss the college experience.
The event will also host a guest panel of Microsoft employees from their autism community.
Jen Guadagno, Senior Inclusive Hiring Program Manager at Microsoft, said, "There is power in sharing our stories and hearing about what we see as our own experiences. Learning about the experience of someone's career, what they learned along the way, their success; it helps to paint a picture of what is possible. It is an example of Microsoft's commitment to an inclusive culture and providing meaningful careers to everyone, including people with disabilities."
Interested parties are encouraged to register soon as space is limited to the first 200 participants. The $25 registration fee includes lunch.
Last Updated September 30, 2019