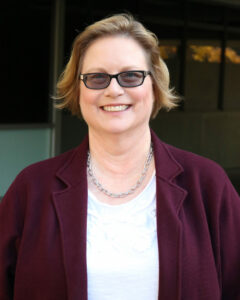 Now in its fourth year, the Autistics Present Symposium was held Oct. 19 from 10 a.m. to 4 p.m. on the Bellevue College campus. This year's symposium focused on autistic youth, with seven speakers aged 13 through 22, an autistic youth Mistress of Ceremonies and an autistic youth closing speaker.
The idea of holding a symposium began when Sara Gardner, program director for Neurodiversity Navigators at Bellevue College, and numerous colleagues in the autism and neurodiversity field found many autism conferences lacking in one crucial aspect: the organizers of the conferences weren't autistic themselves.
"They just didn't understand what we actually needed and didn't provide an accessible environment," said Gardner. "We frequently left those venues feeling depressed and overwhelmed."
So Gardner, with the support of the Autistic Women & Nonbinary Network, set out to develop a conference run by and for a neurodiverse audience. The event is designed to help educators, professionals, and families hear directly from autistic people without other voices inserted.
"There is so much misinformation about autism that is still being taught to educators and other professionals, and to the general public. Our students, and all autistic people, experience ableism and bullying on a daily basis, even when people have the best intentions," said Gardner.
"It's important that others learn that we have something to say, and that we know ourselves and our community needs better than anyone else. In the case of this year's symposium, we will be listening to the autistic youth."
Educating and supporting neurodivergent students is becoming increasingly important on college campuses. One of the challenges faced by Neurodiversity Navigators (formerly Autism Spectrum Navigators) during the nine years it's served the Bellevue College community is the limited number of students one program can reasonably assist in a given year.
"For BC, we need to support other colleges in beginning these programs because we simply can't serve all the students who want to come to us," said Gardner.
One such college is Willamette University in Salem, Oregon. Willamette began their College Access Navigators program in Fall 2019 with help and guidance from Gardner.
"I've been exploring bringing a program for neurodivergent students to Willamette since the summer of 2018," said Sue Jin Hee Minder, director of Accessible Education Services at Willamette University. "In my nine plus years of experience, I noticed serious gaps in access for these students and how colleges across the country fail to support them adequately, despite their best efforts. Sara Gardner's conceptualization of the ASN program  was the first of its kind where I saw solid data on its success rate. I contacted Sara immediately and we have been working together ever since."
As with any partnership, the support and learning goes both ways. Willamette will include autistic students and students with ADHD from the start. Neurodiversity Navigators will add additional neurodivergent students, including those with ADHD, during the 2019-2020 school year. "We want to continue supporting College Access Navigators through a strong start, and of course communicate with them as we do with many other colleges across the country regarding educating and supporting neurodivergent students," said Gardner.
Gardner noted that when colleges start a Navigators program, they are gaining three important things: the ability to educate and support a deserving group of students who would otherwise struggle; because of the wrap-around effect of the program, students are better able to use resources appropriately which helps the college make the best and most economical use of resources overall; and it's a terrific recruitment and retention tool – not only for the neurodiverse population, but for those wanting to attend a diverse school.
The increased need for programs such as Neurodiversity Navigators is one of the reasons for its name change from Autism Spectrum Navigators. Current students are increasingly identifying as neurodivergent rather than autistic. Additionally, many students at the college who need the same educational, access, and advocacy don't identify as autistic at all, but they do fit the neurodivergent category. The name change officially took effect Fall Quarter 2019 with this year's cohort of 120 students. Since 2010, the program has helped approximately 400 students navigate and succeed at Bellevue College and beyond.
Last Updated November 12, 2019