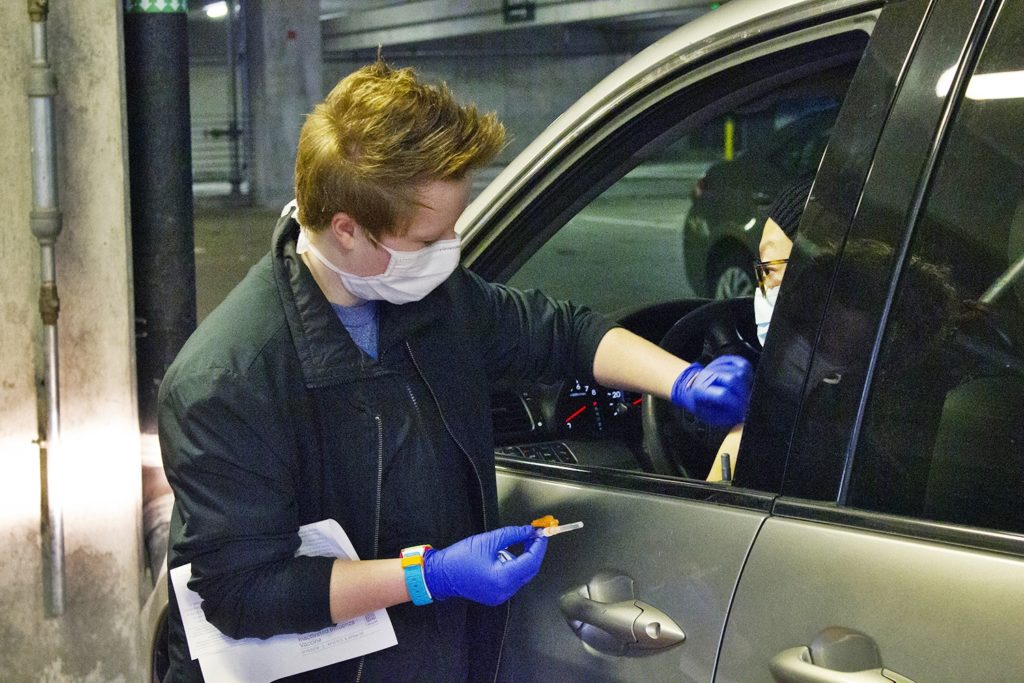 Experts recommend flu shots every year as the weather chills, but this year, coronavirus' prevalence in the U.S. makes flu prevention even more important. A combination of both viruses, or one after the other, may lead to serious, negative health outcomes, respiratory health and overall ability to recover.
To top it off, experts are not sure what having both COVID-19 and flu could mean for a person's immediate and long-term health.
With this in mind, Bellevue College held a drive-thru flu shot clinic Friday, Nov. 6, ensuring as many students, faculty and staff could access a free or low-cost flu vaccine in a COVID-safe environment.
The clinic, held in the third level of the BC parking garage by drive up and by appointment, offered a large, open-air space to accommodate social distancing, with vaccine recipients remaining in their vehicles. All individuals were required to wear a mask throughout the entire process, from check-in to check-out. After each flu shot, nurses monitored each recipient for 2-5 minutes after receiving the vaccination to ensure they felt adequate to drive off. Uninsured students received funding from Associated Student Government to cover the cost of their flu shot.
Licensed, registered nurses in BC's RN-to-BSN programs and other nursing staff from Snoqualmie Valley Hospital administered the vaccines. Nurses administered the flu shots in the safety of each person's car with the exception of BC Residence Hall students who used the walk-up option. Health and Wellness BAS students assisted with non-nursing duties.
This event, which administered 55 vaccines to the BC community, was held in partnership with the Snoqualmie Valley Hospital, the Bellevue College RN to BSN program, Health & Wellness program, Wellness Center and the BC Flu Team.
"We want to be sure that everyone in our BC community has the opportunity to be vaccinated for the flu; a preventable disease that can be very serious," said Gail McFarland, MPH, CNMT, RT (CT), Health Sciences, Education and Wellness Institute instructor and clinical coordinator. "The more BC community members who are protected, the more we can save our valuable community resources during this pandemic."
According to the CDC, Flu vaccine prevents millions of illnesses and flu-related doctor's visits each year. During 2018-2019, flu vaccination prevented an estimated 4.4 million influenza illnesses, 2.3 million influenza-associated medical visits, 58,000 influenza-associated hospitalizations, and 3,500 influenza-associated deaths. During seasons when the flu vaccine viruses are similar to circulating flu viruses, flu vaccine has been shown to reduce the risk of having to go to the doctor with flu by 40% to 60%.
---
Health Sciences, Education & Wellness Institute
The programs offered by the Health Sciences, Education & Wellness Institute address some of the most critical workforce needs in the region, Washington state and the nation. The institute provides a wide variety of accessible, rigorous, and engaging professional/technical courses, programs, and credentials that are responsive to individual, institutional, and community needs, prospects, and opportunities.

[ssba-buttons]

Last Updated December 2, 2020