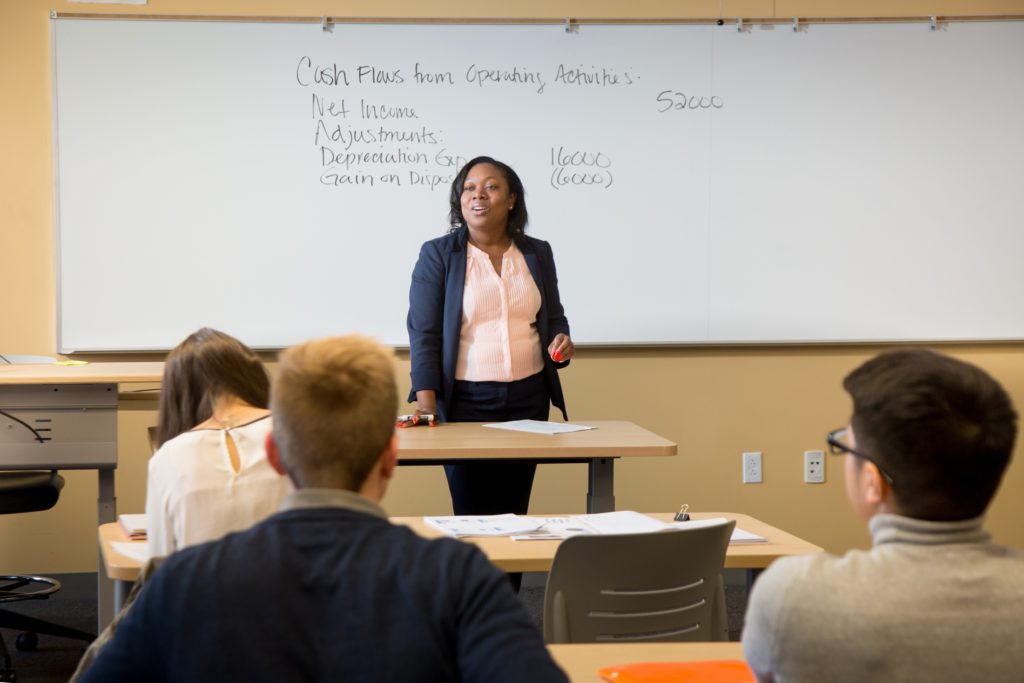 Sheila Lozan is a CPA, associate professor, and program chair for BC's popular Business Administration Transfer Program that prepares students to finish their bachelor's at a public university. Lozan previously spent 10 years as an auditor with PricewaterhouseCoopers. On campus, she's well known for teaching beyond the textbook and helping students gain the experience and confidence they need to reach their goals.
What drives you as an educator?
I have a passion for teaching. I truly enjoy it. As an educator, I am driven by the fact that I can help another person succeed. Success looks different for everyone, whether that's passing a course, getting a degree, understanding a concept, or just seeking mentorship. For me, student success happens when they're excited about the learning process. It's when they ask questions, not just about what's been taught, but how to apply what they're learning to their life and career. Student success is when a student says in class, "I saw an aging analysis on my job and I knew what it was!"
How do you work to develop leadership skills in your students?
I believe mentoring is the best way to foster leadership skills. You must lead by example and encourage students to not be afraid to ask questions. By building relationships with students, they're more willing to discuss their future. They take a critical look at what they want to accomplish in life and realize that to be a leader they must nurture and expand on their current skills.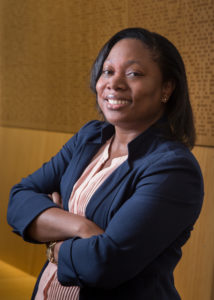 How would you describe your approach to preparing students for a professional career?
We discuss professional etiquette and what it means. In class students are given projects and work in groups. They dress professionally and mock what a presentation may look like if presenting to their company's management. I also encourage students to attend networking events. We talk about the importance of not just knowing technical information but also being able to build professional relationships.
Why is it important to teach beyond the textbook?
It's important because students are expected to not only have the fundamentals, but also know how to work in a professional setting. Employers expect students to know how to network, how to collaborate, how to ask questions and respond to questions, and have overall professional etiquette. There are so many soft skills that the textbooks cannot teach.
In our program we also have the Business Leadership Community (BLC), which I'm a faculty advisor for. BLC hosts events where students can listen to successful business executives and ask questions about how they got started in their careers. We also have Alumni Night, where students and alumni network with light refreshments while standing at mocktail tables. Simulated networking is great for students. They'll be expected to be comfortable in these settings when they start interviewing and in their professional careers. For students who are not as confident approaching alumni, I facilitate the process and then step away as they gain more confidence.
Do you keep tabs on students once they leave BC or transfer to another institution?
They typically come back and share how they are doing at their transfer institution. I have attended lunch and award ceremonies with them, and they have even invited me to attend life events (such as weddings).
What does alumni success look like to you?
When I think of alumni success, I think of alumni who have accomplished their goals. That can range from obtaining a CPA and working for a big firm, opening a restaurant, helping run a family business, or just gaining skills to make them more competitive at their current jobs. All of these are successes.
---
The Business Transfer Program
The Business Transfer Program at Bellevue College allows students to attain a two-year degree in Business and transfer to state public universities to complete a bachelors degree in business. The program transfers the largest number of students to the combined campuses of the University of Washington. Other business schools that accept a large number of our students include: Seattle University, Eastern Washington (at Bellevue), Washington State University, Western Washington University, and Central Washington University.

[ssba-buttons]

Last Updated December 11, 2020