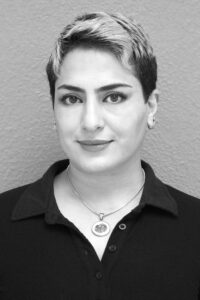 Today the Bellevue College (BC) Board of Trustees announced that BC graduate, Sara Moghadasipour, is a recipient of the 2021 Washington State Association of College Trustees (ACT) Transforming Lives Awards.
ACT created the Transforming Lives Awards program in 2012 to recognize current or former students whose lives have been transformed by pursuing higher education at a community or technical college.
"So many BC students have compelling and inspirational stories, but Sara really stood out, not only because of the challenges she's overcome but her commitment to using her education to improve the lives of others facing homelessness," said Greg Dietzel, BC Board of Trustees Chair. "We congratulate her on this well-deserved recognition."
Moghadasipour left Iran with her 7-year old daughter to escape an unhappy relationship, and build a better life for them both. They spent 30 months as refugees in Turkey before making it to the United States, where Moghadasipour landed an entry-level job. Learning English was a struggle.
Her life changed when she enrolled at BC. "It became my second home," said Moghadasipour, "and instructors became my family who guided me toward a brighter future."
After noticing the many homeless encampments in downtown Seattle, Moghadasipour decided to pursue a degree in architecture. She plans to use her education to create sustainable housing opportunities for communities in need.
"I understand that sense of desperation and heartache, but I also knew that many of those people (like myself) when given a spark and the light of day to make a better life for themselves will do just that," Moghadasipour said.
Moghadasipour graduated from BC in 2019 and is currently enrolled at the University of Washington College of Built Environments. But she credits faculty and staff at Bellevue College with helping her achieve her educational goals. She noted they went above and beyond their responsibilities and spent countless hours offering encouragement and guidance.
"If I were to share one piece of advice with other students or those who are unsure about their ability to attend a college, I would say you are not alone in this," said Moghadasipour. "Everyone in the college is there to help you succeed. No matter how great your struggles are, there is no impossible when you don't give up!"
Each of the college district's boards of trustees selected an awardee from among its current and former student body.
Last Updated January 27, 2021