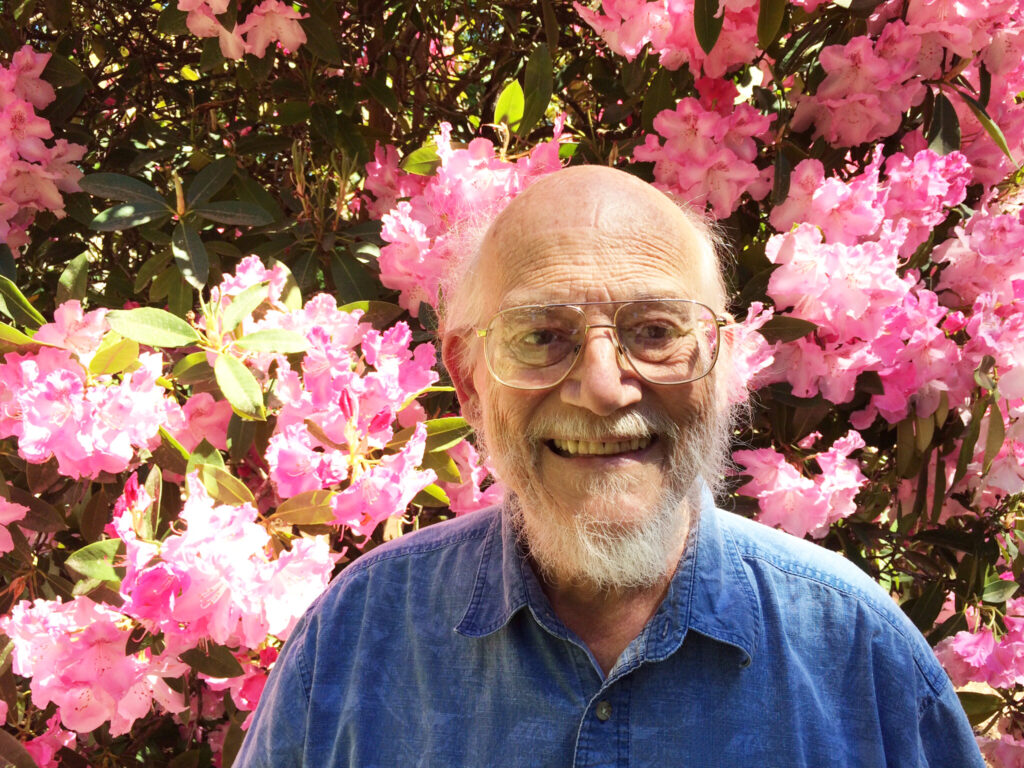 Last spring, math professor Dale Hoffman retired after teaching at Bellevue College for thirty-seven years. The following is a special tribute written and compiled by Business Transfer professor Leslie Lum about his impact on colleagues, students, and the community.
by Leslie Lum
I first met Dale Hoffman over 20 years ago as a newly minted tenure-track faculty and recent escapee from the business world. There was no doubt that Dale garnered respect from his colleagues. But unlike the stereotypical haughty senior faculty, Dale was self-effacing and welcoming, particularly with women faculty. Dale often found himself the only male invited to "women's night out."
Dale taught 37 years at Bellevue College before he retired this past spring. He taught over 10 years at other higher education institutions before that. We estimate that he taught over 30,000 students at Bellevue alone. He has won the Bellevue College Lockwood Foundation Distinguished Faculty Award and the Margin of Excellence Award. He has been cited numerous times by students for the UW Computer Science and Engineering Inspirational Teacher Award. He won the Pacific Northwest Section of the Mathematical Association of American Distinguished Teaching Award and the Washington State Two-Year College Mathematics Lifetime Achievement Award.
Of course, very little of this is common knowledge at the college. All I knew was that Dale was a wealth of information. His travel stories inspired my trips to Cappadocia, Machu Picchu, Angkor Wat, and the Serengeti. Best of all, he was a huge sanity check on college pedagogical endeavors. I asked him about outcomes, gen eds, online learning, adaptive learning systems, common assessments, competency-based education and other initiatives the college pursued over the years. He always gave a detailed critique of how each impacted student learning. In the final analysis, Dale said, "a good teacher beats them all."
Dale knows this simple truth because he is an excellent teacher. But more importantly, he generously shares everything he knows. He created open-source calculus textbooks so any student would have access. He developed calculus and differential equation curriculum for the Bellevue School District (BSD) allowing their students to forge past AP-level classes. There is no doubt that Dale's advanced math curriculum for BSD enhanced the college's reputation and led to large numbers of Running Start students registering at Bellevue College over the past 10 years.
Many of Dale's students became teachers as you will see in the tributes that follow. Dale has mentored a whole generation of faculty at Bellevue College including me. As with any outstanding teacher, it is the lessons of life that Dale teaches best. He shows that, no matter what life brings you, you don't have to burn out on teaching. You could thrive as a teacher for 50 years and still demand deep engagement of your students and the best effort of everyone, especially of yourself.
---
Kaveh Danesh
I was in the first-ever Differential Equations class at the Bellevue School District, taught by Mr. Hoffman. It took place bright and early, at 7 a.m., in an otherwise empty Bellevue High School.
We would walk into the classroom, and Mr. Hoffman would greet us with a smile. Then, once everyone had shuffled in, he would rise, walk to the whiteboard, and start teaching.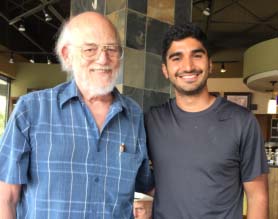 He taught us many things, primarily related to ordinary differential equations. But his teaching was anything but ordinary—from his choice of white board markers, to his colored-paper handouts, Mr. Hoffman's lectures were delivered with an immense amount of thoughtfulness and care.
Two of my fellow classmates, Qiaochu and Jeffrey, would both be among the highest-scoring undergraduates in the William Lowell Putnam Exam. Qiaochu would go on to a Ph.D. program in math at UC Berkeley, while Jeffrey would study computer science at Stanford and later co-found a multi-billion dollar company. Another classmate, Frank, would leave high school a year early to go on to MIT, where he would stay for a Ph.D. in electrical engineering. And then there was Alice and Linda who would go to UPenn and Harvard, respectively, and embark on careers in finance.
Mr. Hoffman often bragged about us like a grandparent would, but now it's time I brag about him. Mr. Hoffman: it goes without saying that you are an amazing teacher. Thank you not only for sharpening my curiosity for math, but also for being a friend. I have deeply cherished staying in touch with you over the years—from watching you accept the Bellevue College Margin of Excellence Faculty Award, to grabbing coffee at Tully's, to sharing life updates over email. Your support over the years has meant so much, and I'll always be grateful to call you my teacher.
Kaveh Danesh received his BS Mathematics/English/Philosophy/ Chemistry from Duke University, his MA in Statistics from Harvard University and is working on his M.D./Ph.D. Economics at University of California, Berkeley.
---
Professor Emeritus Velma Tyson, University of Virgin Islands
Many of us can think of someone who has been a propelling force in our lives, just at a very critical moment; someone whose actions steered us away from possible academic disaster to the height of success. Professor Dale Hoffman has been such a person to me.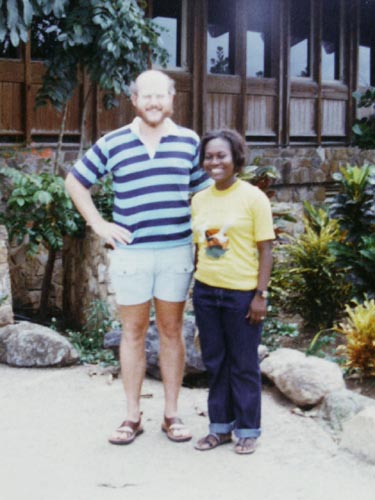 My burning desire to be a secondary mathematics teacher was beyond my reach since I did not possess a degree in that discipline. Mathematics was included in the subjects I had taught for 13 years but only at the elementary level. It was an extremely nervous student who left behind on St. Croix a husband and three young children to attend the College of the Virgin Islands (now University of the Virgin Islands on St. Thomas), often doubting my ability to succeed. I knew full well that I would be sitting in class with brilliant math majors who had just graduated from high school. I could not help wondering whether I had resigned my job to face the embarrassment of failure as a full-time student.
It is difficult to express how blessed I was to have been assigned to Professor Hoffman as my advisor. In our first planning meeting that day in 1978, recognizing my apprehension, he calmly encouraged me to work hard and think "success." He was a person of few words but always displayed patience with an assuring smile and was never too busy to provide assistance. He had a way of making students feel comfortable and often used humor to accomplish that goal. I frequently reflect on a joke he shared in class to help students relax. He said that on his first day in college, not knowing where to locate the math professors for advisement, he enquired and was told to just look for the section with the weird looking people. He was then able to quickly identify the correct line.
Time does not permit me to do justice to the positive impact he has had on my success. As an advisor, his recommendations were sound and as a professor, he was thorough and taught with clarity making challenging concepts easy to understand. In spite of my early skepticism regarding my ability, not only did I succeed but graduated with honors. Years later, due to my solid background, I was able to successfully pursue a terminal degree in Mathematics Education at The University of Iowa.
I often think of Professor Hoffman with sincere gratitude and welcome this opportunity to publicly thank him. He is a giant on whose shoulders I stood. May he be blessed.
Professor Emeritus Velma Tyson was former Chair of the Mathematics Department in the College of Science and Mathematics; and received the Faculty of the Year Award and Faculty Advisor of the Year Awards, St. Croix Campus at various times, in 1991, 1997, 1998, 2003, 2006, and 2009.
---
Professor of Physics and Astronomy, David Jackson, Dickinson College
I have very fond memories of my days at Bellevue Community College (back in the mid-1980s), and in particular of taking multi-variable calculus with Dale Hoffman. I was a nontraditional student in many ways, and Dale's enthusiasm for the subject and his wonderful use of colored chalk really brought the subject alive for me. Moreover, personal computers were just starting to become popular at that time, and Dale had written a program for graphing mathematical functions that I found really inspiring.
In fact, I spent a good deal of my spare time trying to write my own program to graph mathematical functions, and though it took quite some time I finally succeeded. I believe I owe at least some of my life-long interest in all things computational to Dale. Beyond the academics, Dale was very warm and encouraging. He was the first college professor I had that got me thinking that perhaps I could become a college professor. And now, nearly 40 years later, I was just honored for 25 years of teaching physics at Dickinson College.
Thank you Dale for your teaching, your infectious smile and your inspiration!
Along with colleagues Priscilla W. Laws and Scott V. Franklin, Professor David Jackson received the first Science Prize for Inquiry-Based Instruction in 2012 from Science magazine. He was editor-in-chief of the American Journal of Physics from 2011-2017. Dr. Jackson is a 2018 recipient of the Homer L. Dodge Citation for Distinguished Service to the American Association of Physics Teachers (AAPT), and was awarded the Association's 2019 David Halliday and Robert Resnick Award for Excellence in Undergraduate Physics Teaching.
---
Linda Lian and Alice Raksin (Lee)
We were students in Mr. Hoffman's differential equations class 2006-2007. It couldn't have been easy dealing with us group of kids. There were quite a few in the class who had a lot of talent, and others who looked around and wondered how we found ourselves there, learning concepts that we found incredibly complex. Despite this, Mr. Hoffman was incredibly patient and kind to each of us, and his enthusiasm for the magic of math was infectious. His class was the best part of our day and brought all of us together. We were so excited about our learning that we started a Facebook group called "differential equations – plane masters of the universe unite!"
Mr. Hoffman, thank you for touching all our lives and helping us become the humans that we are today and for the friendships and community that still last!
Alice Raksin went to Wharton at the University of Pennsylvania and received a BSE and MBA. She worked in investment banking at Deutsche Bank and now works in private equity at L Catterton, investing in high-growth consumer brands.
Linda Lian graduated from Harvard University and has had various positions in investment banking; technology management; co-founded and is current CEO of Common Room.
---
Professor Emeritus Stella Williams, Obafemi Awolowo University, Nigeria
As a Fulbright Scholar-in-Residence, 2003/2004, I met a special friend at then-Bellevue Community College (BCC) in the corridor of the Science Division. He had a special smile and a twinkle in his eyes as we both acknowledged our presence. We are both "early birds" to our workstations in the building. However, in a friendly manner that is so enchanting, he knew I was not a regular staff member in the college and he knew I was a strange one. Hence, as only Dale can be, he approached me and asked a number of probing questions. I answered his questions and he invited me to join a group of his friends whose habit is to meet daily. I soon became a regular at their meeting where thanks to Dale I acquired new friends through the years even after my departure from BCC.
Bless you and many thanks. It is great knowing you and enjoying your friendship. Your friendship has been a real blessing and a joy. Thank you Dale!
Stella Williams has served on a variety of international, regional and national committees and agencies, where she has contributed to solutions to equity and gender problems including: Gender and Science and Technology (GASAT), the African Women in Agricultural Research and Development (AWARD) program, the Nigerian Women in Agricultural Research for Development program (of which she was the founder), the International Potato Center (CIP), the committee on Gender Issues in Science and Technology of the Federal University of Technology, Akure, Nigeria, and many more.
---
Jennifer Laveglia
For more than 25 years, Dale has been an incredible colleague, mentor and friend to me. He invested many hours talking about teaching, learning and mathematics, especially when I was fresh out of graduate school, new to the profession, and needed advice on pretty much everything. Teaching calculus from the textbook he wrote changed the way I think about presenting new material to students at all levels, and for that I am forever grateful.
One of the most inspirational things about Dale is how there is always a twinkle in his eyes when he is talking about math with students; he is genuinely interested in them as people and helping them see something grand or something nuanced in the mathematical ideas and details. His patience is always plentiful, and his expectations are always high. Dale deserves an incredible retirement, yet he will be sorely missed by faculty and students in the BC Math Department.
Jennifer Laveglia is a Full Professor of Mathematics at Bellevue College
---
Andria Villines
As a new tenure track instructor at Bellevue College, I have a clear memory of sitting in on a calculus class watching Dale teach. His invitation to visit his class as well as his use of the board with color and clarity inspire me still, as do his good humor, clarity of explanations, willingness to share his experience, and sharp interest in everything. His welcome and interest in students and new faculty create opportunities for connection which led to learning. More than any other instructor, Dale has students who reach out to him after years to share memories of his class and the connections they made with other students.
Andria Villines is Senior Associate Professor of Mathematics at Bellevue College
---
Jennie Kong Mayer
Although I teach chemistry and am not in the same department as Dale, I had an office across from him in L-200 for four years, and in that time we had lots of hallway time together, exchanging laughs. Dale always had a funny comment about everything and I enjoyed running into him or seeing him outside taking a break. One day we were discussing crystal structures, and he loaned me some beautiful quartz crystals that I have been using a classroom demonstration ever since.
Every day as I walked from L200 to the B-building chemistry labs, I'd pass his class and see his beautifully drawn graphs and equations on the whiteboard, and Dale making eye contact and smiling as he lectured – I always looked for this when I passed by. I also knew he was part of the Open Course Library project for the SBCTC and created a free/affordable Calculus textbook. Dale was here to help students discover a love for math and learning. He has a huge heart and really cares about Bellevue College. Thanks to Dale for so many years of stellar service, and helping to make the Science Division more than just a workplace.
Jennie Kong Mayer is Full Professor of Chemistry and co-Chair of Physical Sciences at Bellevue College
---
Lorinda Flikkema
Thank you so much for all your mentoring over the past years. You truly made a huge impact on me. I will never forget all our meetings at Starbucks with you, King and Mary talking math and life. I will never forget the advice you gave me when I first started teaching Advanced Calculus. You told me to be kind to myself and forgive myself if I wasn't perfect because it take a few years to get truly good at the material. I will never forget that advice. In fact I use that advice with teachers at the high school level still today who are new to teaching high level math courses.
I also want to say thank you for your friendship. You were always there for me when I had questions and needed advice. You are an amazing person and mentor and I wish you all the best in your retirement.
Lorinda Flikkema, Math Teacher, Sammamish High School
---
Dale Hoffman's Most Recent Awards & Recognition
2018 – UW Computer Science & Engineering Inspirational Teacher Award
2016 – Lockwood Foundation Distinguished Faculty Award
2016 – "Exceptional 50" award for 50 people in the first 50 years of Bellevue College
2014 – Washington State Two-Year College Mathematics Lifetime Achievement Award
2011 – Pacific Northwest Section of the Mathematical Association of America Distinguished Teaching Award
2010 – Open Course Library grants to create a free digital textbook for Math 151, 152 and 153 (calculus)
2010 – UW Computer Science & Engineering Inspirational Teacher Award
2010 – Bellevue College Margin of Excellence Award
2009 – UW Computer Science & Engineering Inspirational Teacher Award
Last Updated November 16, 2021