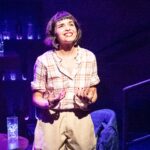 Bellevue College recently presented A Stormy Night at the Queen City Speakeasy. The musical from Tammi Doyle (director), Aimee Hong (musical director), and Jenna Spinei (choreographer) premiered on Wednesday, Mar. 2 and ran through Saturday, Mar. 5.
The BC Theatre Arts event told the story of the Queen City Speakeasy, one of the hottest bars during Prohibition in Seattle. The performance incorporated music from the era, including Nick Moore's contemporary arrangements of the legendary Gershwin brothers, Irving Berlin, and Jerome Kern.
"Each of the students was tasked with singing, acting, and dancing, while we were restricted to spending the first month of rehearsals – nearly half of the overall rehearsal period – at home and on Zoom," relates Tammi Doyle. "Yet, each of our actors rose to the occasion and performed brilliantly."
Members of the cast can be seen in BC's next show – a play titled You on the Moors Now. The play is a comedy featuring literary icons Elizabeth Bennet (Pride and Prejudice), Jo March (Little Women), Cathy Earnshaw (Wuthering Heights), and Jane Eyre (Jane Eyre) as they set conventionalism ablaze when they turn down marriage proposals from their equally famous gentlemen callers.
Last Updated April 8, 2022