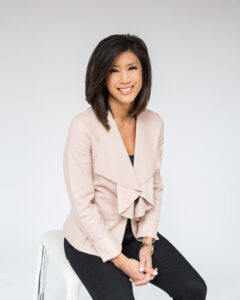 Mimi Jung, Emmy award-winning morning anchor on KING 5 News, will address graduates as the keynote speaker for Bellevue College's commencement ceremonies at T-Mobile Park on June 24.
"The Class of 2022 has struggled through incredible adversity. From political turmoil to the pandemic, these students have persevered through very difficult times. I look forward to joining with friends and family as we celebrate that accomplishment," said Jung.
Jung was born and raised in Puyallup and attended Syracuse University where she graduated with a broadcast journalism degree. She has spent the past 22 years anchoring and reporting some of the biggest stories in Seattle after beginning her broadcasting career in Las Vegas.
"We are excited to have Mimi Jung as this year's keynote speaker," said BC interim president Gary Locke. "She's renowned for her exceptional journalism and ability to convey insightful and powerful news stories. We are also thrilled to honor our graduates with an in-person celebration at beautiful T-Mobile Park. Our students deserve their day in the sun."
BC expects to award 2772 bachelor's and associate degrees, certificates, and diplomas in 49 different academic concentrations. About 1950 of this year's graduating class will be comprised of graduates who will receive associate degrees. Approximately 496 students are expected to graduate with honors.
The ceremony will begin at 3 p.m. For those who are unable to attend, the event will be broadcast live. More info can be found on the BC website.
T-Mobile Park is a retractable roof stadium located in Seattle, approximately 15 minutes away from the BC campus. The stadium is home to the Seattle Mariners baseball team. Parking is available in a garage next to T-Mobile Park.
Last Updated November 17, 2022