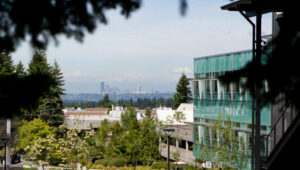 College students pursuing business careers will have more access to a four-year degree through a new collaboration between the University of Washington Bothell and Bellevue College. The initiative integrates UW Bothell School of Business' Eastside Leadership Center (ELC), currently in Bellevue's Park 140, into the Bellevue College campus. The move will offer students in Supply Chain Management and in Entrepreneurship academic programs the simultaneous services and support of both institutions.
Students will benefit from the city of Bellevue's vibrant growth as an inclusive hub of global innovation and the planned expansion of technology giants such as Amazon, Meta and Microsoft. "The Supply Chain Management and the Entrepreneurship programs perfectly align with the city's entrepreneurial spirit and diverse workforce," said Dr. Kristin G. Esterberg, UW Bothell chancellor. "ELC undergrads and Bellevue College students alike will have access to exceptional faculty and extraordinary opportunities for fieldwork."
Gary Locke, interim Bellevue College president and former Washington state governor, was instrumental in initiating the collaboration. "This great partnership is a win for students who can earn a UW Bothell bachelor's degree on our campus while also taking advantage of BC's support services, and it's a win for local employers who are in critical need of skilled workers," he said. "The innovative combination of two Eastside educational powerhouses — Bellevue College and UW Bothell — is only the start of more great things to come."
Plans within the next two years include a master's degree in Supply Chain Management.
"Our Supply Chain Management program provides the workforce for technology giants and businesses of all sizes," said Dr. Sandeep Krishnamurthy, dean of the School of Business. "Through our focus on real-world, industry experiences, companies in Bellevue and throughout the Eastside can take advantage of what our students have to offer through our educational projects and required internships."
According to Dr. Deanna Kennedy, associate dean of academic programs for the School of Business, "Students will graduate ready to bring their business ideas to the next level, such as entering an incubator or venture accelerator or gaining pre-seed funding."
The Eastside Leadership Center at Bellevue College will welcome its first students in spring quarter 2023. For more information about registering for the programs offered, email Kathryn Hagy, director of academic services and undergraduate advising in the UW Bothell School of Business. 
Last Updated August 17, 2022