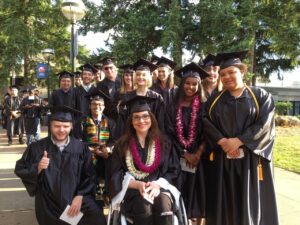 The Seventh Annual College Bound Resource Fair for students with disabilities returns to the Bellevue College (BC) campus on Saturday, Feb. 4, from 10 a.m.–1 p.m. Open to the public, this free event is geared toward aspiring college students with disabilities as well as the families and educators in their lives.
The College Bound Resource Fair is a partnership between BC's Occupational & Life Skills (OLS) and Neurodiversity Navigators, Achieve Highline College and WSU Roar. In addition to the in-person event, the college program presentations will be live-streamed. Vendors and service providers will also be on hand to offer information about available support services.
"I am very happy with my decision to go to college because I can get my associate degree and further my career goals," said Panida Lamb, a student in the OLS program at BC. "There are a variety of resources available to college students with disabilities. If you cannot find them, someone will help you find the resources you need."
OLS is representative of the programs that will be featured at the fair. Students apply academic knowledge through community activities, service learning and social experiences. They identify a career pathway, gain marketable, workplace-ready competencies, develop better interpersonal skills, and complete an internship in alignment with their career goals as they earn their associate degrees.
"This is a wonderful opportunity to learn more about the range of programs designed to support the college and career goals of people with disabilities. Representatives from across King County will be present," said Maile Allen of BC. "The highlight of the day will be a panel of students who will speak to their own experiences."
Last Updated January 19, 2023