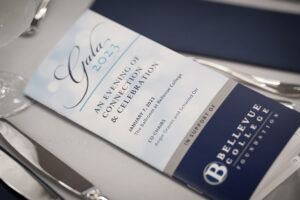 There was much to celebrate at Bellevue College Foundation's gala on Jan. 7, their first in-person major fundraising event since the start of the pandemic. Over two hundred business leaders, corporate partners, donors, and friends of Bellevue College gathered in the campus' new ballroom to support student success. With a goal to raise $250,000, the gala exceeded expectations by more than $100,000.
"It was exciting to see so many of our strongest supporters in person, and the number of attendees, and the total funds raised, illustrates the definition of a community-based college," said Melissa Johnson, the Foundation's executive director. "This is a community that values higher education and is deeply committed to making it a reality for those who can't imagine being successful in college…yet. But they will, thanks to the generosity of everyone who contributed to the night's success."
The money raised came from ticket sales, event sponsorships, silent and live auction items, and a raise-the-paddle campaign. The funds will go toward the foundation's work to support students, staff and faculty, and the BC campus. This includes student scholarships, grants for staff and faculty, program enrichment, and other things that are not covered by state and college funding. Over the past year, the Foundation awarded 315 scholarships, totaling nearly $560,000, and invested more than $1.1 million into BC students and programs.
The evening's title sponsor was Amazon, while Microsoft and BECU were the signature and premier sponsors, respectively. Supporting sponsors were Build Group, Columbia Pacific Wealth Management, Umpqua Bank, Homestreet Bank and Howard S. Wright Company, and benefactor sponsors were Ascend Hospitality Group, Davis Wright Tremaine, Honda Auto Center of Bellevue, Puget Sound Energy, Parker Smith & Feek, and Workpointe.
The evening's special guest speaker was Glenn Jackson, BC's Center for High School Initiatives director. Jackson, who is also a BC alum, shared his journey of going from a high school dropout, to working in the BC kitchen and enrolling in a few classes, to graduating with an associate degree and continuing his education to earn a bachelor's, master's, and doctorate degree, to finally joining the faculty at BC and running the Center for High School Initiatives. Keri Pravitz, community engagement manager at Amazon, also spoke about her company's $1.5 million gift to BC's computer science program.
During the live auction, attendees bid on items including a five-day trip to Tuscany, a painting by BC math faculty member Luke Rawlings, dinner with BC interim president and former Washington Gov. Gary Locke, and a Lake Washington summer evening cruise. Silent auction items included special packages from BC alum Brandon Ting's restaurant, Supreme Dumplings, and exclusive college experiences, including a tide pool adventure with marine biology instructor Sue Nightingale, and an apiary tour that included a jar of honey courtesy of the BC bees, donated by BC biology instructor and Beekeeping Society sponsor Jason Fuller.
The last time the Foundation held a gala was in 2017, to mark BC's 50th anniversary. There were plans to hold another gala sooner, but like in many cases, the pandemic delayed things until this year.
"Folks missed getting together," said Emily Feicht, director of development and strategic initiatives for the foundation, adding that this was an event highlight for her—seeing members of the greater BC community come together and get dressed up for a good cause. "Higher education transforms lives, and the funds raised at the gala will make so many students' futures brighter."
Last Updated February 6, 2023