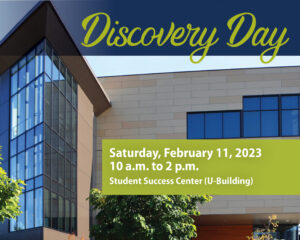 BC will host Discovery Day on Saturday, Feb. 11, 2023, from 10 a.m. to 2 p.m. at the Student Success Center (U Building). The event is open to prospective students, parents, community members, and current students looking to transition their course of study. Along with a tour of the campus, attendees are invited to explore the many academic and student support programs offered at BC.
With an annual average enrollment of nearly 20,000, BC is one of the largest educational institutions in Washington. The college offers associate degree programs that cover the first two years of a college education, four-year bachelor's degrees, certificates, and continuing education. Research from the Georgetown University Center on Education and the Workforce has shown that no degree-granting college in the state has a better 10-year return on investment than BC.
Long recognized for its innovative approach to education, the college offers programs like Bellevue College in the High School and Running Start, which allow students to jump-start their academic career by earning college credits while still in high school.
BC provides many programs to support an increasingly diverse community. Representatives from the college's Disability Resource Center, Multicultural Services department, TRiO program, and Veterans Center will be on hand to explain their services. Information sessions also will be held by the Occupational and Life Skills program, which serves students with learning disabilities so they can earn their associate degree, and the Puente Project, which is dedicated to helping Latinx students achieve their academic and professional goals.
BC's mission is to prepare students for what's next in their lives – whether it's pursuing a degree pathway, preparing for the academic rigor of a four-year university, advancing in a current career, or simply learning a new skill. Come to Discovery Day and learn more about what BC can do for you.
Discovery Day sessions include:
BC Information Session Q&A: The session will feature an overview of the college and its admission process.
How to Pay for College: Various resources will be explored, including financial aid, workforce education, BC Foundation scholarships, veteran education benefits, Benefits HUB, third-party accounts, and the tuition payment plan.
First Year-Seminar: Learn about First Year-Seminar, a program that is designed to help students discover their strengths, identities, and long-term career goals.
New Student Orientation: The session will cover a range of information relevant to the needs of incoming students.
Center for Career Connections: The Center for Career Connections provides resources to students and the community. The session will review how it can assist with career interest inventories, resume and interviewing skills, internships, job search, and specialized cohort programs.
The XR Lab at BC: Learn about the XR Lab, which is committed to the application of virtual reality, augmented reality, and simulation technologies as tools for thought – as a bonus, participants will have the opportunity to use a virtual reality display device.
In addition, there will be information sessions on the following programs:
Running Start
Puente Program
Occupational and Life Skills Program
Allied Health
Personal Fitness Trainer Certificate
Yoga Instructor Certification
Workforce Education
More information about Discovery Day can be found at bellevuecollege.edu/discovery.
Last Updated February 6, 2023