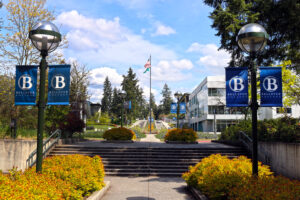 BELLEVUE, Wash. — Today the Board of Trustees of Bellevue College (BC) announced four finalists to be considered for the next college president—Dr. Darrell Cain, Dr. Cory Clasemann, Dr. Tonya Drake, and Dr. David May. The finalists were selected after a search that yielded well-qualified candidates from across the country. The Presidential Search Advisory Committee dedicated significant time and energy to reviewing applications and interviewing semi-finalists, which resulted in the recommendation of four finalists to the Board.
The finalists will visit the Bellevue College campus during the weeks of March 6th and 13th.
"We're pleased and excited to present four extremely qualified candidates for the position of president of Bellevue College," said Merisa Heu-Weller, chair for the Board. "Their demonstrated leadership, breadth of higher education experience, and commitment to student success align with the college's priorities that were identified by our campus community through the BC Priorities Report."
About the Candidates
Dr. Darrell L. Cain is an educator who utilizes education as an opportunity conduit for social change. He grew up in the city of Gary, Indiana, and is a first-generation college student. Presently, he serves as the Interim President of Everett Community College. Dr. Cain has held several leadership positions in higher education, including becoming the first African American President of Pierce College, Puyallup. Dr. Cain holds a firm conviction for teaching and learning and has held several teaching positions and currently teaches in the graduate school at the University of Maryland Global College. He has over 15 years of teaching and research experience and has presented and authored numerous articles. His research interest centers on the Pedagogical Implications of Teaching and Learning with Technology, Student Retention and Success, and Learning Outcomes Assessment. See full candidate biography.
Dr. Cory Clasemann has over 23 years of higher education experience, leading initiatives at both 2-year and 4-year institutions to increase retention, completion, and student success overall. Currently working as a consultant with educational institutions and non-profit organizations, he is also the former Vice President for Student Success at Ivy Tech Community College in Indiana, where he oversaw innovative retention initiatives, academic advising, student life, and holistic wraparound supports for the 19-campus statewide college. During this time, Dr. Clasemann worked with faculty and staff to implement and scale evidenced-based approaches to increase success and completion for all students, including the implementation of transformative initiatives such as 8-week courses, Guided Pathways, and required advising. Prior to joining Ivy Tech in 2012 as the Assistant Vice President for Institutional Research, he served as the Director of Institutional Effectiveness at the University of Indianapolis, and prior to that worked at Creighton University. He has a bachelor's degree in Journalism & Mass Communication from Creighton University, master's degree in Organizational Management from the University of Phoenix, and a Ph.D. in Higher Education from Indiana University. See full candidate biography.
Dr. Tonya Drake has dedicated her career to expanding access to high-quality, career-focused education and has a strong commitment to education and student success. She currently serves as Chancellor and Regional Vice President for Western Governors University overseeing the strategic direction for nine states: Alaska, Colorado, Hawaii, Idaho, Montana, Oregon, Utah, Washington, and Wyoming. She has extensive experience in leadership positions and more than 25 years of experience in higher education, including: Chancellor and Regional Vice President, Western Governors University; Vice President for College Relations and Advancement at Edmonds College; Chief Diversity Officer at Edmonds College; Vice President and Dean of Student Success at Shoreline Community College; and administrative positions at Maricopa Community College District, Arizona Board of Regents, Arizona State University, and the University of Washington. Dr. Drake holds a Ph.D. in Education Leadership and Policy Studies and Master of Education from Arizona State University, a Bachelor of Arts in Business from University of Washington, and an Associate degree from Lower Columbia College. See full candidate biography.
Dr. David May is in his third decade as an educator and leader in higher education in the state of Washington. A Pacific Northwest native, he has focused his career on student success and regional partnerships. Holding a doctorate in political science from Washington State University, Dr. May is an expert in the area of Supreme Court politics. He is passionate about the role of higher education in producing responsible and engaged citizens and as an engine of social mobility. Recognizing the critical role of public higher education as a point of access, opportunity, and excellence, Dr. May continues to focus on expanding educational opportunities for the entire range of diverse students that make up our region and our state. As the Interim President of Eastern Washington University, Dr. May was committed to ensuring student success and safety as we lived through and emerged from the pandemic and preparing the institution and our students to be leaders in the social, economic, and political recovery of our communities. See full candidate biography.
PHOTOS:
More info. on the BC Presidential Search website.
Media Contact:
Nicole Beattie | Associate Director of Communications
(425) 564-2486 | nicole.beattie@bellevuecollege.edu
Last Updated March 2, 2023