Date posted: June 21, 2022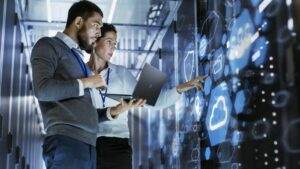 In 2016, Bellevue College received permission to become the first community college in the state to offer a bachelor's degree in computer science. Five students signed up for the initial cohort. The college is now admitting 84 students a year spread over three quarters. Some of the state's other colleges are looking to follow Bellevue's lead and create similar programs. North Seattle College is launching its program in the fall of 2022.
While it has grown quickly, Bellevue College still has a relatively small program — which means it can be nimble like a tech startup.
"We can adjust very quickly," said Fatma Cemile Serçe, Computer Science program chair at Bellevue College. "We want our students to be ready for the current industrial needs."
The program, for example, is collaborating with Amazon to bolster its cloud computing instruction and also offers instruction in machine learning.
With its proximity to Amazon and Microsoft, Bellevue draws on talent from the tech giants for its educators. Faculty, who are still required to have either a master's degree or Ph.D., often include current or former tech professionals. Once students are admitted to the program, they're assigned a faculty advisor who can help with career planning, resume building, and collaborating with other faculty.
Since Bellevue College doesn't have advanced computer science degrees, there are no graduate student teaching assistants providing instruction. "There is not a layer between students and faculty," Serçe said.