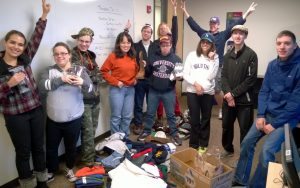 One of my favorite things about being a part of OLS is hearing all of the wonderful student stories from our instructors. Our students are the driving force behind this blog, and it is my pleasure to introduce you to them through the many stories, lessons and experiences that they share over the course of each year at OLS. The following story about the OLS Fall Service Project is from Mark Waldstein and the Social Change class. I hope you enjoy it as much as I did.
"This quarter, OLS at Bellevue College ran its annual OLS Fall Service Project. After learning that more than 11,000 people are living on the streets in King County – and that as many as 2,000 of these are under the age of 17 – the 3rd and 4th year students in the course "Social Change in America" led a successful two-month campaign to collect warm clothing and personal hygiene products for the homeless youth of Seattle.
The students learned in class that, contrary to popular belief, most homeless people are not living on the street by choice; often, they have wound up there after losing a job or not being able to keep pace with rising rents. With assistance, many are able to get their lives back under control in a relatively short period of time. Among younger homeless people, though, a significant number have left home by choice – to escape domestic abuse or parents unwilling to accept their gender preference.
Just in time for winter weather, OLS students were able to collect 21 jackets and coats; 15 packages of underwear, and 59 pairs of new socks; 43 hats; and much more, including several bags of gently-used children's clothing. Plus 60 packages of hand-warmers, 81 bars of travel-size soap, 68 small bottles of shampoo/conditioner, 44 bottles of skin lotion, and five boxes of Band-Aids. It will all be given to YouthCare, a non-profit agency in Seattle whose programs include transitional housing, re-entry to education, and job training – what they call their "Continuum of Care".
In reflecting upon the overall experience, Social Change students commented that they felt personally connected to the issue of homelessness, considered themselves lucky not to be living on the streets, and were proud to be helping homeless youth in Seattle. In one student's words, the project shows "that we care about people in many communities" and that "we are part of a community that thrives as a team of people."" – Mark Waldstein
Posted by Ryanne Rosenlund
Last Updated January 4, 2017