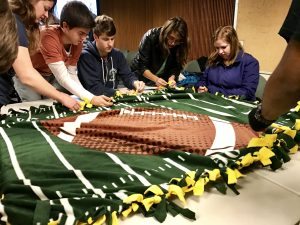 On a rainy day in January, OLS students, faculty and staff came together to pay it forward at our annual Martin Luther King, Jr. Day Service Project. Each year, in an effort to provide comfort and warmth to those in need, our students make No Sew Blankets by cutting and tying sheets of fleece together in teams. Once these handmade blankets are created, a group of OLS students, accompanied by an instructor, deliver the blankets to Seattle Children's Hospital for patients who are in need of a little TLC.
This year, OLS Student Council Members kicked off the event with a presentation of reflection, beginning with Dr. King's famous "I Have a Dream Speech", followed by an inspiring, and tear-jerking video of Seattle Children's Hospital cancer patients singing about strength to Kelly Clarkson's "Stronger". The overall theme of the day was togetherness, and that was apparent as each team worked together happily, while laughing and sharing stories.
One of the things that touched me the most was hearing personal stories from three of our students – Brandon, Cassidy, and Andy – who, at one point in each of their lives, were patients at Children's Hospital themselves. Brandon and Cassidy, who both needed life-saving surgeries when they were younger, remember receiving blankets like these as they fought their way to better health. Andy, who began his journey at Children's as a very premature baby with Cerebral Palsy, was far too young at the time to have memories of the gifts he received, but proudly proclaimed, "Because of Seattle Children's Hospital, I can walk!" Their stories were both moving and inspiring and a wonderful reminder of how life comes back around full-circle, as the one-time recipients of these gifts are now providing them to those who are in need.
At the end of the day, our students learned that by volunteering their time, they are providing a sense of security and comfort to children who are seriously ill and in need of these lovingly-created, cozy blankets. They also discovered that doing good work for others can be a fun experience that brings people closer together – especially when pizza is involved.
Posted by Ryanne Rosenlund
Last Updated January 24, 2017