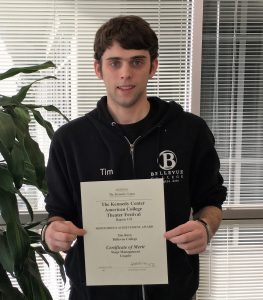 Tim Bartz is a very busy guy. In addition to being a third-year student at OLS®, Tim is also simultaneously earning his theater-concentrated AA at Bellevue College. When he's not busy earning two college degrees at once, he's doing what he loves – working as an Assistant Stage Manager for theatrical productions at Bellevue College. And apparently, he's pretty good at it. Tim has just been recognized by the Kennedy Center American College Theater Festival (KCACTF) for his work on the BC original play, "Coupler", for which he received an award in Meritorious Achievement for Stage Management. This is no small feat – Kennedy Center honors are things that most people could only dream of.
Tim discovered his passion for theater as a junior at Newport High School where he started taking drama classes, and hasn't looked back since. Although he enjoys acting, he saw more opportunity for experience and employment working behind the scenes. And it seems like he may have made the right choice – "Coupler" was Tim's 15th production. He's currently working on his 16th – "Carrie, The Musical" – and has two more on the way this year. When asked about his success and what he thinks set him apart for this award, he mentioned his roles as both an actor and a stage manager, noting, "I've seen it from all sides. I think experience played a big part in it."
After graduation, Tim would like to pursue a career in theater, film and voice work. He plans to graduate from OLS® in 2018, and then again from BC in 2019.
At OLS, our students learn to identify and develop career paths in the fields that they love. Tim Bartz is doing just that.  Congratulations to Tim, for pursuing his passion in life, and receiving this prestigious honor.
Last Updated October 16, 2018