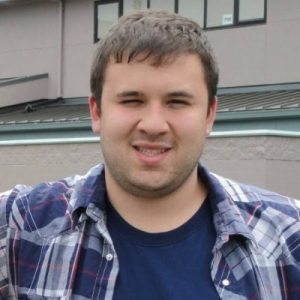 Meet Sebastian, also known as "Bash". Bash is an OLS at Bellevue College alumnus who graduated in 2015. His story is one of success, although somewhat atypical, as it came by way of overcoming career setbacks in order to find new opportunities when challenges were presented.
When Bash first graduated from OLS, he began working as a paraeducator at a local school district. "The first two months were extremely chaotic, and I couldn't handle the pressure of working with teens with disabilities who require a lot of assistance," Bash said. "Everything was too fast paced for me and I couldn't process all the details fast enough." Bash has Autism Spectrum Disorder and ADHD, and although he was able to relate to the teens he worked with, he was struggling and realized that being a paraeducator wasn't the right fit for him.
So, Bash went back to the drawing board and reached out to his job coaches at Mainstay to help him find a new job in an environment that would be more suited to his personal needs. He now works in the IT Department at the Seattle Municipal Tower – and he loves it. "I feel more like I'm part of a team," he said. "My co-workers are awesome, my boss is great and my supervisor is, well, super." He mentioned that he hopes to continue working there, as he is enjoying "every second" of his job.
"There are a lot of setbacks in people's lives, and sometimes you realize that the job you wanted might not be a great fit for you. And that's okay, because it happens to everyone," he said. "Life will have setbacks for everyone, but we can overcome them."
At OLS®, we prepare students for the workforce by teaching self-determination and helping them develop the skills they need for success in work and in life. When things didn't go quite as planned in his career, Bash demonstrated his self-determination by turning a challenge into an opportunity that changed his life for the better. When asked about something he learned at OLS that helps him in his daily life, he answered, "expect the unexpected."
---
If you have an OLS story to tell, please contact us. We would love to hear from you!
Last Updated December 7, 2021