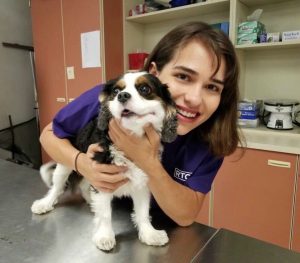 My name is Lauren Arasim. I'm studying to become a Veterinary Assistant at Renton Technical College, and I plan to graduate in August 2018. The program I am in is a full year, including a summer quarter as an intern at a veterinary clinic where I can start using the skills I've learned and gain more experience. My favorite part about studying to become a veterinary assistant is knowing that all the hard work I've done will pay off in the near future. I just finished fall quarter with an A, which has always been a struggle for me to get, but I finally did it, and I look forward to winter quarter.
I wanted to become a Veterinary Assistant so I can help dogs and cats when they are injured or sick. I have been dogsitting for a few years now and have owned a few loving dogs in my life, so it felt like the perfect fit for me.
Since I received my Associates degree from OLS, I have been more confident when it comes to learning and studying as well as knowing what I want to do as a career. I have also gained some life-long friendships from OLS. The best advice I can give to current and future OLS students is to never give up no matter how hard it is and to always keep going. Even if it takes you longer to learn, that's alright because it will eventually pay off.
(Lauren graduated from OLS in 2017.)
---
Do you have an OLS story to share? We would love to hear from you! Fill out our online story submission form to share your story.
Last Updated April 6, 2018