2018 OLS Bellevue College graduate Acacia stopped by during the first day of this year's orientation to welcome incoming students to the program. As you may remember from our post in June, Acacia is now employed as an Office Assistant with the Bellevue College Foundation, and she updated us on how her first couple of months on the job have been going.
"It's going really well. I really enjoy the people I work with. I have a really good level of interaction with my coworkers, and there's a couple of different events I can work at as well."
When we asked her what a typical day at work is like for her. "Usually I come to work about 5 min early to put my things away, and then I get to work doing donation filing, database entry, writing donor bios, and other tasks as needed."
We are so pleased it is going well for you, Acacia! Thank you for keeping us up to date with what you are doing.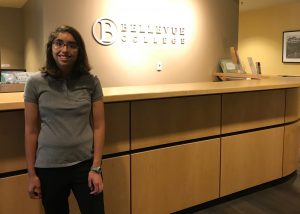 ---
Do you have an OLS Bellevue College story to share? We'd love to hear it! Whether you are an OLS student, alumni, parent, or friend to the OLS community, please take a moment to contact us. If you are interested in learning more about our program, we invite you to register for an Information Session.
Last Updated December 7, 2021