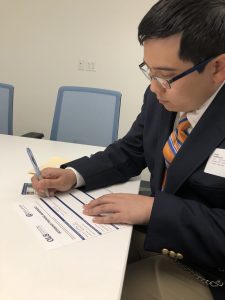 4th year OLS student Geoff recently interviewed for his internship at Kaiser Permanente with the Patient Access and Business Operations Manager. Geoff used the skills he learned in his Workplace Problem Solving and Workplace Readiness courses to deliver an excellent 60-second sell. He was calm and collected and provided good answers to the questions he was asked. He also prepared some questions for his interviewer such as, "What do you foresee will be the future of healthcare in the next 5 years?"
Needless to say, he got his internship as a Junior Analyst Intern!
In addition to being accepted into the internship, this was a great opportunity to practice the skills Geoff will need to access employment when he graduates in the spring.
Way to go, Geoff! We are proud of you, and good luck in your internship.
---
OLS Students complete a 200-hour internship in their 4th year of our program. We partner with local businesses to provide students an internship related to their career pathway. For more information on internships in our program, please visit our Internship Page.
You can learn more about becoming an OLS Student by registering for an Information Session.
---
Last Updated October 30, 2018