As news outlets began reporting election results from around the country on November 3rd, second-year students in the OLS News and Daily Living course were busily taking in those numbers. Then at 7:00PM that evening, they gathered online to present their own news coverage in an "Election Night Watch Party" for their fellow students and OLS faculty.
Students worked together in groups, each assigned to report on a different race such as the president and key races in the Senate and House of Representatives. Local contests were covered too, such as the race for Governor and some important ballot initiatives in King County. To prepare, students researched their topics using a variety of reliable news sources – a key concept in the course.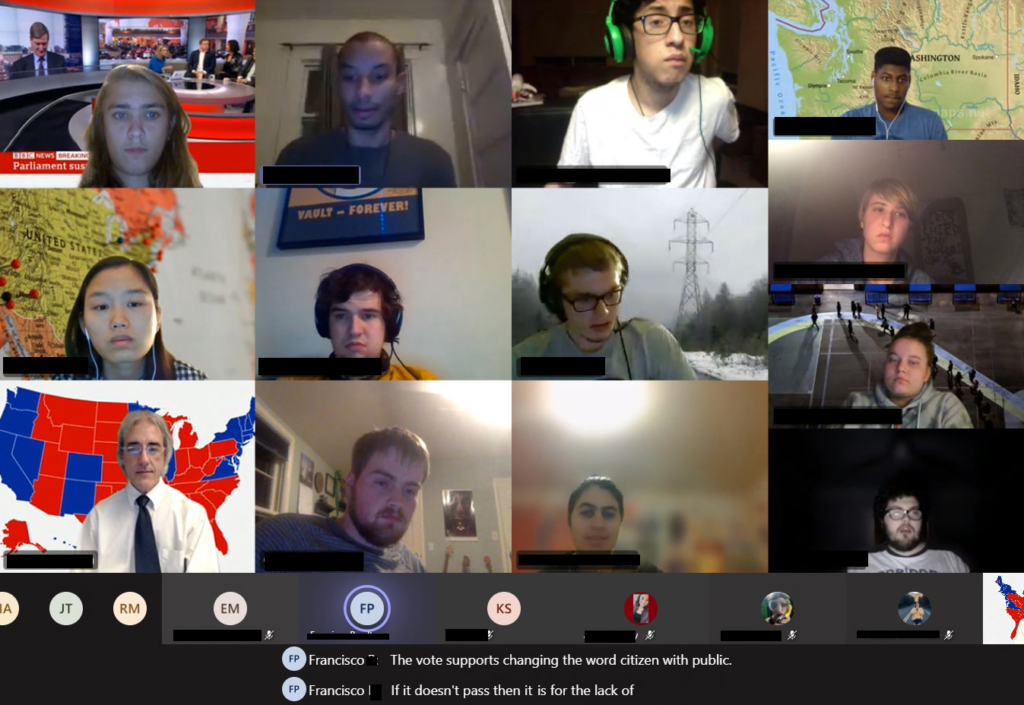 Some of the groups were asked to focus on the unusual aspects of the 2020 election, such as voting during a pandemic. Nadine noted that "The Democratic Party wants people to stay home and vote by mail…but the Republican Party is the opposite. They want people to vote in person."
Asked what might happen if the presidential race remained undecided on election night, Jack explained, "If neither candidate gets 270 electoral votes, the House of Representatives takes over and votes amongst themselves, where each state gets one vote. Whichever candidate gets 26 or more votes becomes the next president."
Clayton outlined the challenges posed by misinformation campaigns and foreign interference. "For example, the recent video accusing Biden of not wearing a mask during an airplane ride. That was debunked immediately, as it was proven the video was taken back in 2019 when Covid wasn't spreading."
Describing the Governor's race here in Washington, Allison provided extensive backgrounds on both incumbent Jay Inslee and his rival Loren Culp and detailed their respective campaign platforms. Panida did the same for the candidates in the 8th Congressional District race, saying about Rep. Kim Schrier: "As the only woman doctor in Congress, she wants to voice her opinions related to healthcare (and) her own experiences as a patient living with Type 1 diabetes."
The experience clearly gave the students a deeper interest in the election process. "I learned that votes beyond just the President make an impact on the country," said Franco in a reflection following the event. Ella Mae agreed, saying "I am glad I researched other races that are going on in this election."
"Politics stress me out badly, but I am working on that," admitted Jullian; he then added, "It did give me a chance to take a look into the news and updates about the election."
"I feel like the Election Watch Party went phenomenally well," said Kenassa. "The best part was, we all got to participate, and I felt official while reporting."
This was a fantastic exercise for students to not only learn more about the election process, but to put what they are learning in the course into practice, such as researching facts and how reliable a news source information is being reported from is.
---
News & Daily Living is one of the many courses OLS Bellevue College students take to obtain their associate degree from OLS. More information about our curriculum is available on our website. To learn more about our program register for an upcoming Information Session.

[ssba-buttons]

Last Updated December 15, 2020