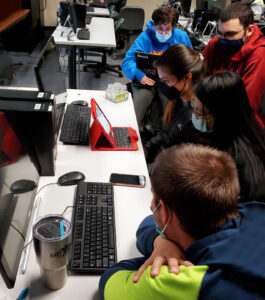 Social Change in America explores various methods that can lead people to change their habits and thinking on important issues. The students discover that even though they can't solve the world's problems, they can make a difference in their own community.
The course uses a "project-based learning" technique: Working together in groups, students decide on an issue they care deeply about. And they learn the steps involved in leading a grassroots campaign for change – by running one themselves.
The group pictured here chose upcycling – the DIY art of taking household items that are about to be thrown away, and crafting them into useful new goods. The goal is to reduce the amount of trash that goes into landfill. (Something else they learned: Most of the bottles and cans we toss in the recycling bucket are actually shipped off to poor countries and dumped there.)
Upcycling also saves people money; these students turned a variety of recyclables into planters. And by making a planter instead of buying one that's been manufactured, it also saves that much carbon from going into the atmosphere.
Check out the Informational Flier created by Evelyn, which includes links and information the group researched throughout the quarter.
---
Occupational & Life Skills (OLS) Bellevue College is an associate degree program for adults with learning disabilities.
Social Change in America is one of the many courses our students take to obtain their degree. More information about our curriculum is available on our website. To learn more about our program register for an upcoming Information Session.
Last Updated February 3, 2022