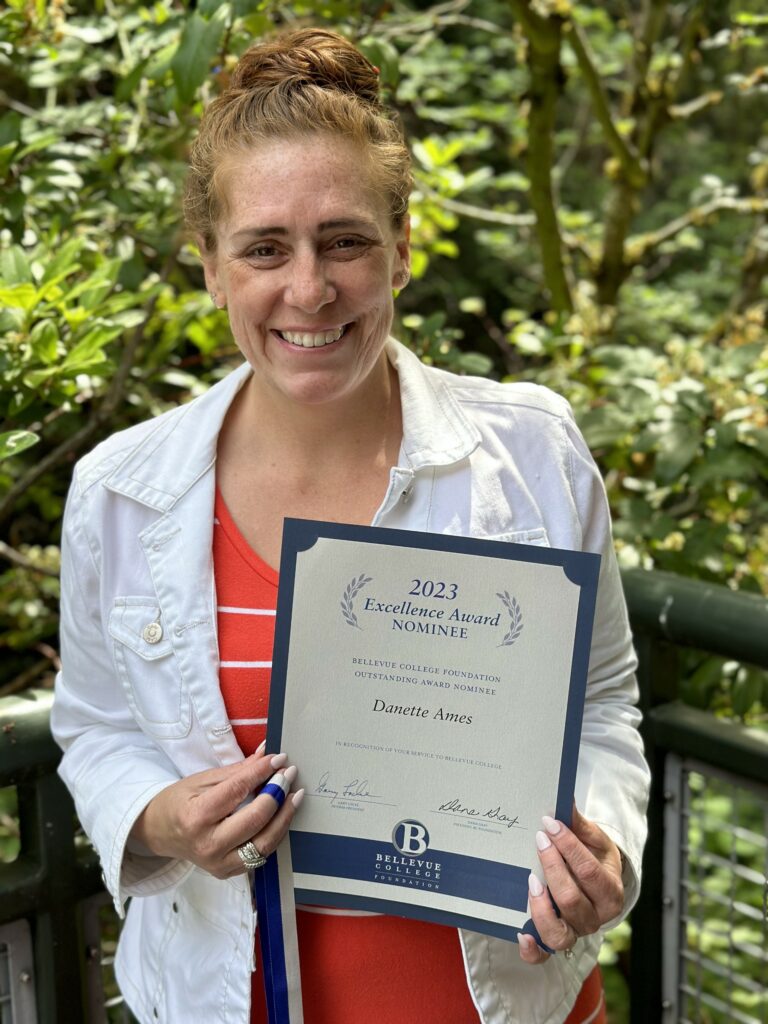 Please join us in congratulating OLSBC Faculty Danette Ames for her Bellevue College Foundation Faculty and Staff Excellence Awards nomination.
The Excellence Awards recognize outstanding faculty and staff members who demonstrate a commitment to excellence through their contributions to the campus and the community. Students, faculty, administrators, staff, and trustees may submit nominations.
Danette was nominated for this award by OLSBC students. Here is the nomination quote they shared:
"Danette Ames goes above and beyond for her students and is very understanding of what we are feeling and not afraid to advocate for our needs. She is there to help us pass and not let us get behind in classes. When you need help with something, she will take the time out of her time to reach out and help you with any needs. She is a good role model because she shows persistence and strength in life and how things should be and not what they should not be…I feel like I am in a safe learning environment. Danette also helps navigate my learning disability because she demonstrates and shows that it is okay to ask for help and not [let] my disabilities get in the way of learning."
It reflects Danette's tenacity and dedication that her students nominated her for this award. OLSBC students are empowered to make their voices heard in their campus community, and we are so excited to see them take action to recognize what their instructor has brought to their college experience.
Congratulations, Danette! We are so lucky to have you at OLSBC.
---
About Occupational & Life Skills Bellevue College
Occupational & Life Skills Bellevue College (OLSBC) is an associate degree program for students with learning disabilities. In our uniquely supportive skills-based program, students apply academic knowledge through community activities, service learning and social experiences. Students identify a career pathway, gain marketable, workplace-ready competencies, develop better interpersonal skills and complete an internship in alignment with their career goals.
Learn more about our program at an upcoming Information Session, open to all prospective students, family members/guardians, educators, counselors and other service providers. Come learn why OLS Bellevue College is one of the best colleges for students with learning disabilities.
Last Updated June 13, 2023